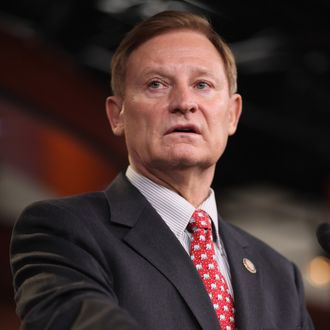 Bachus.
Photo: Chip Somodevilla/2011 Getty Images
Representative Spencer Bachus of Alabama, Chairman of the House Financial Services Committee and one of the main subjects of a recent 60 Minutes exposé on insider trading in Congress (based on Peter Schweizer's book Throw Them All Out), is under investigation by the Office of Congressional Ethics for possibly running afoul of insider-trading laws.
The OCE, an independent investigative agency established in 2009, has reportedly found "probable cause" to examine specifically whether Bachus's stock options dealings violate Securities and Exchange Commission laws prohibiting individuals from trading based on "material, non-public" inside information. The OCE is focusing on "numerous suspicious trades on Bachus's annual financial disclosure forms," and is also considering whether his trading disregarded congressional rules that prohibit members of Congress from using their public positions for private gain, the Washington Post reports.

"The Office of Congressional Ethics has requested information and I welcome this opportunity to present the facts and set the record straight," Bachus said in a statement issued Thursday. The OCE has not confirmed or denied whether an investigation is actually taking place.

The Washington Post is reporting that Bachus, whose investments involve almost exclusively stock options, not stock purchases, has made some bets "that coincide with major policy announcements by the federal government and industries under his congressional oversight."

This news comes when Congress's approval rating is at all-time low, when people rate the honesty and ethical standards of members of Congress on par with that of lobbyists and car salespeople, below that of telemarketers.
Last week, the Senate passed the STOCK Act, a measure that specifically prevents members of Congress from trading based on information obtained during the course of their public duties, and just today the House passed a similar bill.