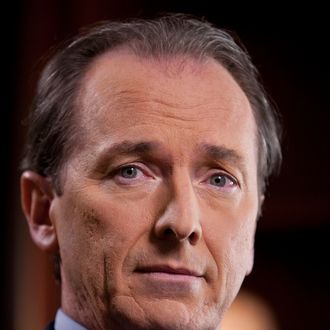 Photo: Scott Eells/Bloomberg via Getty Images
It's beginning to seem like there's something about very rich, powerful men and spy novels. Billionaire mayor Michael Bloomberg isn't much into reading fiction, except for books by John le Carré, author of Tinker, Tailor, Soldier, Spy, as he excitedly told a bunch of high-schoolers in the Bronx. Also a fan is Morgan Stanley's Australian CEO James Gorman, the subject of an in-depth new profile from Bloomberg Markets. Gorman may have told his employees whining about bonuses to "just leave," but we're told he really "doesn't fit the image of a Wall Street titan." He's just a normal guy, right down to his taste in literature, and has a few things in common with Bloomberg:
Notwithstanding his $10.5 million pay package, he shows up at black-tie events in a rumpled tuxedo he bought as a business-school student in the 1980s. He keeps supplies of Vegemite — a favorite Australian food that's made from yeast extract — in the executive kitchen and eats it on toast.

He often walks home from his Times Square office to his Upper East Side townhouse and was spotted on one weekend in a track suit and sneakers waiting in line at the post office. The 6-foot-3-inch (1.9-meter), 195-pound (88-kilogram) Gorman's favorite pastimes include reading John le Carre spy novels and taking boxing lessons weekly at his gym.
Modest transit habits, le Carré books, and moving around huge sums of money — Gorman and Bloomberg sound like a heavenly match. If not for the drastic size difference, we'd try to set them up as sparring partners.