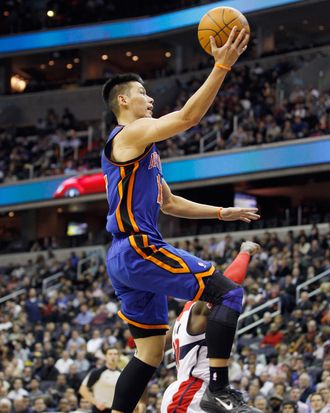 Jeremy Lin #17 of the New York Knicks looks on against the Los Angeles Lakers at Madison Square Garden on February 10, 2012 in New York City. NOTE TO USER: User expressly acknowledges and agrees that, by downloading and or using this photograph, User is consenting to the terms and conditions of the Getty Images License Agreement.
Photo: Rob Carr/Getty Images
"We have 168,000 Jeremy Lin merchandise coming in over the next 72 hours, either by truck, by van, by plane, by boat. We're just trying to keep up with the demand." —Modell's CEO Mitch Modell on his stores' inability to keep up with the Linsanity that's gripped New York City.