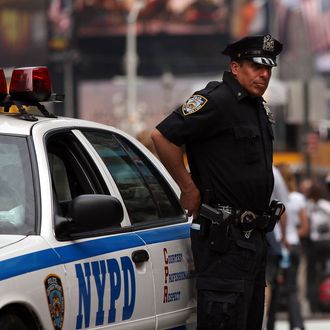 Photo: Spencer Platt/2010 Getty Images
Jason Arbeeny, a fourteen-year veteran of the NYPD, was convicted of planting crack on a innocent couple, but avoided jail yesterday with a teary apology. "I can't look at myself in the mirror anymore," said a crying Arbeeny, the Daily News reports. "My oath went down the window, my pride went out the window." He explained that his son is now in therapy after threatening suicide, while his attorney blamed the "enormous pressure" of arrest quotas. "Sir, I am begging you, please don't send me to jail," Arbeeny said. It worked.
"I came into court this morning determined that the nature of this crime requires some jail time," said Brooklyn supreme court justice Gustin Reichbach, who could have handed down as many as four years in jail. "I frankly didn't expect the defendant, at the 11th hour, to be making these claims." Reichbach called the actions "not only reprehensible abuse of trust and authority but the corruption of the entire criminal justice system." However, he decided on five years of probation and 300 hours of community service. Every hour Arbeeny spends speaking to officers about his crimes, the judge said, will count as two.