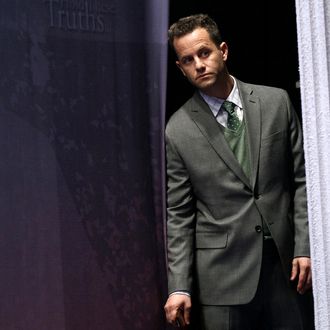 Kirk Cameron peeks onstage before speaking at CPAC.
Photo: Win McNamee/2012 Getty Images
Over the past few months, as the battle for the GOP nomination progressed, some big Republican names weighed in with their endorsements. People like John McCain. Rick Perry. Bob McDonnell. Michele Malkin. Herman Cain, twice. Donald Trump? Sure, Donald Trump. But one of the biggest gets remains … ungotten. We speak, of course, of Growing Pains star and banana appreciator Kirk Cameron.
"I'm not here to endorse anybody for the race," he told us when we accosted him in the hallway —  despite the best efforts of his manager, who insisted Cameron had not a second to spare — following his speech at CPAC earlier today. "I'm here to talk about a new film that's just coming out right now." But surely he must be planning to endorse someone eventually, right? How else will people know who to vote for? "Um, probably not," he insisted. "I'm here to kind of bring awareness to some of the things that I'd like for them all to talk about." 
Alas, the Cameron seal of approval remains elusive. But there's still time for him to make up his mind. We're nowhere near (we're nowhere near) the end of the primary race. Perhaps, at some point, Cameron will start sharin' his laughter and love with one lucky candidate.