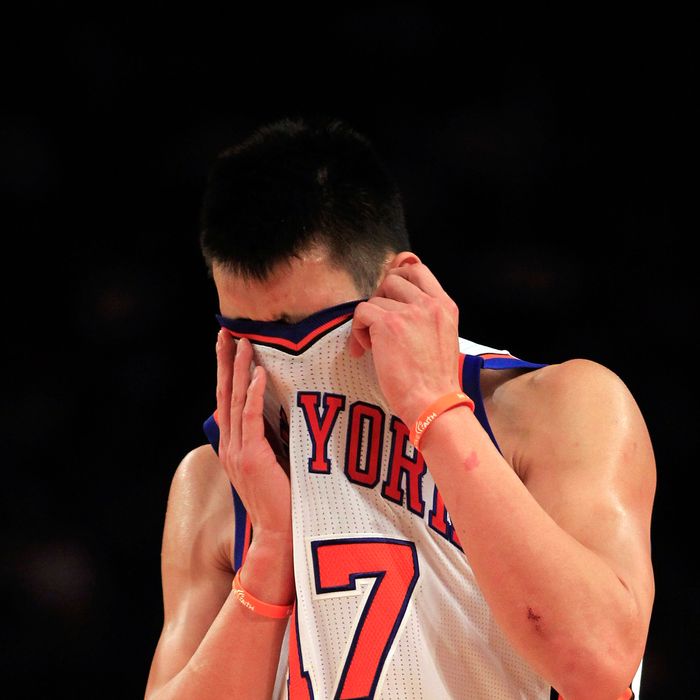 Jeremy Lin during last night's game. (Chris Trotman/Getty Images)
Photo: Chris Trotman/2012 Getty Images
Yesterday, the Linmentum was brought to a halt by the New Orleans Hornets'$2 89–85 victory over the Knicks. But with 26 points and five assists, it's not like New York's favorite son Jeremy Lin did all that bad. (Although he has apologized for his nine turnovers, calling it a "lackluster effort on my part.") Still, last night's calamity is unlikely to dispel the Linsanity we've all so gleefully contracted. In fact, according to Lin's book agent Richard Abate (yes, he'd already started shopping around the best seller of the century), the "frenzy" around his six-foot-three-inch client is still so great that they decided to "postpone" any future book meetings until fans stop hyperventilating. Cynics might say this is proof the bubble's already burst, but those people are just jealous. As for post-game Lin buzz, that's been provided courtesy of this very unfortunate ESPN headline announcing the Knicks' defeat: "Chink In The Armor."
It didn't take long for the complaints to start flooding in, most calling the phrase racist and several offering up examples of what ESPN should not do if it wants to retain its minority readers.
Comedian and Parks and Recreation actor Aziz Ansari tweeted: "I hope when that ESPN writer apologizes, the article isn't titled 'Lin Headline was Ching Chong Bing Wrong.' That would be bad."
Angry Asian Man blogger Phil Yu wrote: "Damn, some idiot editor was actually insensitive enough to think this was a clever idea? You lose, ESPN. That's racist!"
Sports journalist Ceyd Zeigler Jr. seemed especially taken aback: "ESPN has been the biggest champion of New York Knicks star Jeremy Lin's rise during the team's seven-game winning streak. But they have potentially undone it all with a horribly racist headline."
Thirty-five minutes after it went live, ESPN pulled the story (screenshots can be found here and here) and published the following statement:
Last night, ESPN.com's mobile web site posted an offensive headline referencing Jeremy Lin at 2:30 am ET. The headline was removed at 3:05 am ET. We are conducting a complete review of our cross-platform editorial procedures and are determining appropriate disciplinary action to ensure this does not happen again. We regret and apologize for this mistake.
But will it be enough to assuage ESPN's critics? Zeigler is having none of it, writing that, "We want to give ESPN the benefit of the doubt here, but it's impossible to believe the person who wrote that headline didn't know exactly what they were writing." Plus, he notes, it's not even the first time ESPN has used that same exact headline.