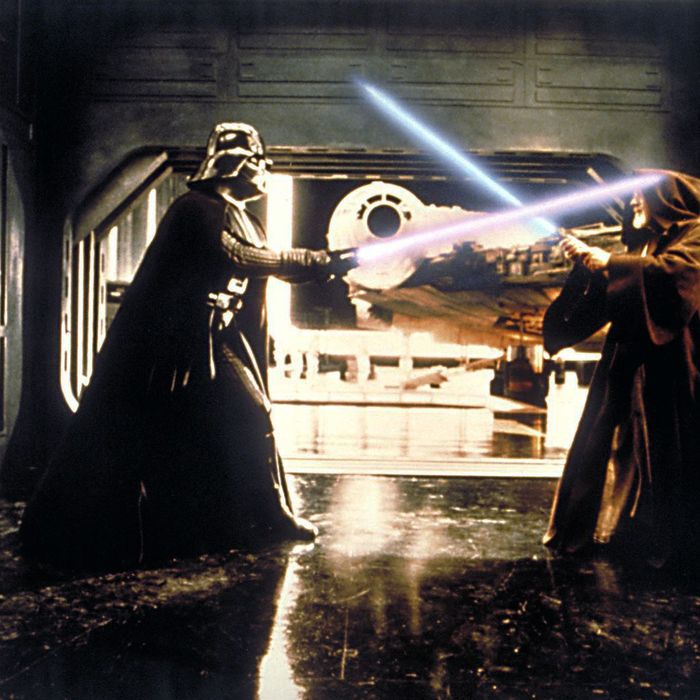 The Dark Side of the Tort
Photo: Lucasfilm Ltd.
It's not exactly Darth Vader versus Obi-Wan Kenobi, but lawyers Jesse Strauss, David Anziska, and Frank Raimond have similarly completed the circle: Once, they were the learners; now, with a new series of lawsuits against fourteen law schools, they are threatening to take down their former masters.

The saga began last year, when Strauss and Anziska, both veterans of corporate legal work, filed lawsuits against New York Law School and Thomas M. Cooley Law School, in Michigan. The allegation: That Cooley and NYLS, by allegedly inflating post-graduate employment numbers, had committed fraud and violated local consumer protection acts.
According to Strauss and Anziska, Cooley and NYLS were engaged in "Enron-style" accounting techniques that would leave most for-profit companies facing the long barrel of a government investigation and the prospect of paying a substantial civil fine." They asked for millions of dollars in tuition remission, and reimbursement for "consequential damages," such as the cost of textbooks and school supplies.

The job market for lawyers has been contracting for years; hiring is down across the board. At the same time, law schools have continued to crank out young lawyers at an alarming rate. Consider the situation in the state of New York. In 2009, the 9,787 people who passed the bar exam in the Empire State were competing for an estimated 2,100 new jobs, according to the analytics firm Economic Modeling Specialists. The imbalance created a glut of recent graduates with limited job prospects and alarming amounts of debt.

At institutions like Columbia (ranked number 4 out of 188 law schools by U.S. News and World Report), graduates can still generally expect to find a job as an attorney after graduation. But for graduates of institutions like New York Law School (ranked 135th), the situation can be considerably more bleak.

"What we want to see is a more efficient market in legal education," Jesse Strauss told me recently. "We can't keep pumping out more and more JDs into a saturated market, and then still somehow tell kids they're going to find a job. Something needs to be done."

In December, Anziska and Strauss brought a third attorney onboard: Frank Raimond, a former lawyer for the city. Together, Anziska, Strauss, and Raimond have expanded the purview of the lawsuits, from Thomas M. Cooley and NYLS to a range of institutions nationwide.

Today, the three attorneys announced the filing of lawsuits against twelve additional schools, including Southwestern Law School, in Los Angeles; Florida Coastal School of Law, in Jacksonville, Florida; and Brooklyn Law School, where Strauss received his JD.
 
"It's with a heavy heart that I sue my alma mater," Strauss says. "But it's the right thing to do, and I can't personally ask other people to sue their schools if I don't have the courage to run a lawsuit against my own school."

More than 50 recent law school graduates have joined the suits so far; in states where Anziska, Strauss, and Raimond are not licensed to practice law, local co-counsel has been arranged.

"We believe that some in the legal academy have done a disservice to the profession and the nation by saddling tens of thousands of young lawyers with massive debt for a degree worth far less than advertised," David Anziska, wrote in a statement today. "[I]t is time for the schools to take responsibility, provide compensation and commit to transparency. These lawsuits are only the beginning."

So do Anziska, Strauss, and Raimond actually have a shot at making these lawsuits stick? Well, yes, says Paul Campos, a professor at the University of Colorado Law School — particularly if the law schools are compelled to turn over their internal job placement data, which could prove so embarrassing that the law schools would decide to settle with the plaintiffs.

There is some precedent for this sort of thing: In 2007, for instance, a group of plaintiffs argued that California Culinary Academy, a cooking school in San Francisco, had intentionally misled students about their chances of working as a chef after graduation. Last May, the action was settled out of court; the settlement is reported to be in the neighborhood of $40 million.

Which is not to say that Anziska, Strauss, and Raimond aren't facing long odds. If even one of the lawsuits is dismissed, it could set up something of a domino effect, wherein all the other lawsuits are tossed, too.

Strauss, for his part, remains confident. "These lawsuits are the right thing to do," he told me this morning. "The money that went to the defendants* is legally recoverable. This is a zeitgeist lawsuit — it's young people taking back their financial future from people who committed malfeasance."
*An earlier version of this article misquoted Mr. Strauss as saying the "money that went to the clients is legally recoverable."