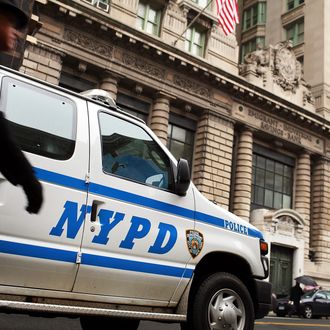 Photo: Spencer Platt/2012 Getty Images
John Hockenjos, a Brooklyn man, was charged with two counts of reckless endangerment and one count of reckless driving because he supposedly created a "grave risk of death" by driving "at high rate of speed into a driveway towards" officer Diego Palacios, according to the criminal complaint. The officer said he "had to jump out of the way to avoid being hit," but Hockenjos's own "crystal clear" surveillance footage shows him "slowly pulling into the driveway and Palacios standing still," the Post reports. Hm!
"In my 20 years of legal experience I've never seen a more crystal clear example of a false arrest," said the man's lawyer, who wants the case dismissed. The police were reportedly called by Hockenjos's neighbor over an ongoing dispute about who owns the driveway. Either way, it's not the cop's property, so the real question is why the officer sided with the other guy to such a potentially damaging extent.