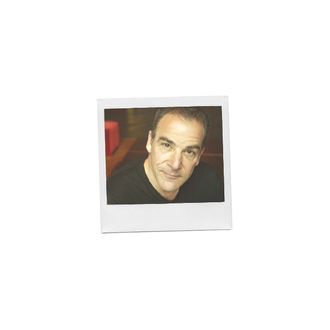 Mandy Patinkin
Photo: Newspix
Name: Mandy Patinkin
Age: 59
Neighborhood: Upper West Side/Columbia 
Occupation: Actor. He'll be appearing in conversation with novelist Thane Rosenbaum this Monday, February 6, at 8 p.m. at the 92nd Street Y.
Who's your favorite New Yorker, living or dead, real or fictional?
Joe Papp.
What's the best meal you've eaten in New York?
Nova on a scooped-out, toasted well-done, everything bagel, with onion and tomato, no cream cheese from Barney Greengrass.
In one sentence, what do you actually do all day in your job?
Breathe. Singing makes me breathe more, and breathing always makes me feel better.
What was your first job in New York?
I was a mousser and bus boy at Fiorello's across from Lincoln Center (as a mousser, I stood on the island between Lincoln Center and Fiorello's and gave people a spoonful of chocolate mousse and told them it was from the restaurant, trying to hustle business).
What's the last thing you saw on Broadway?
Hugh Jackman: Back on Broadway
Do you give money to panhandlers?
Musicians and street performers almost always. Panhandlers sometimes.
What's your drink?
Water.
How often do you prepare your own meals?
Fifty-fifty, but when I'm performing almost never.  My wife, my son, or the market take care of me on those occasions
What's your favorite medication?
Viagra. [Ed note: !]
What's hanging above your sofa?
What's more important is what's hanging above my piano. A beautiful, simple, painting of a mountain in magical inspiring colors by Christian Peltenburg-Brechneff.  It was a wedding gift to me from my wife and has inspired me for 32 years. Every song I have learned I have learned looking at that painting.
How much is too much to spend on a haircut?
Well, considering the amount of hair I've lost and how little is left to cut, I feel my haircuts should be free.
When's bedtime?
On a show or concert night, midnight or 1 a.m. On a shooting night, usually immediately after we wrap. On a non-working day, 9:30-10 p.m.-ish.
Which do you prefer, the old Times Square or the new Times Square?
The old Times Square. I hate, hate, hate the new Times Square. You want to sit at a table? Go to a restaurant or the park or stay home! Bloomberg has made the old adage "go play in the street" a reality!!! Streets are for driving cars and bikes not sitting down and having a picnic!
What do you think of Donald Trump?
Honestly, I've never heard of him.
What do you hate most about living in New York?
That the country isn't across the street.
Who is your mortal enemy?
Fear is both my mortal enemy and my friend. It triggers me to try to inject hope and optimism into every breath I take.
When's the last time you drove a car?
I drive back and forth from the city to the country whenever I can.
How has the Wall Street crash affected you?
It has engaged me to try and do whatever I can to eradicate the epidemic of greed that has taken over our country and the world and to look for ways to encourage our government and people with means to attend to those in our society who have so little and need the basics in life, like a home, a job, food, and health care.
Times, Post, or Daily News?
Times.
Where do you go to be alone?
I walk the path along the Hudson from the GW Bridge to the Battery or I walk in Central Park or I go to the country.
What makes someone a New Yorker?
The spirit that was reborn in our city on 9/11: that all men and women are created equal, that all New Yorkers are one, that we are here in this unique city to attend and care for each other no matter what.