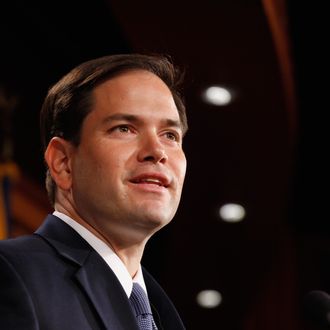 Rubio
Photo: Chip Somodevilla/Getty Images2011 Getty Images
Is America ready for its first all-Mormon-raised ticket? We're not talking Romney-Huntsman; we're talking Romney-Rubio. Buzzfeed reports that Marco Rubio, the GOP star senator from Florida, was baptized into the Church of the Latter-Day Saints when he was 8, and remained "active in the faith for a number of years during his early youth," according to family members, and confirmed by the Rubio camp. The family converted after moving near close relatives, the Denises, who had joined the church in the seventies. But Rubio's father, a bartender also named Marco, never converted himself; he "had little use for a religion that promoted a strict code of moral conduct that seemed at odds with the way he made a living."
The conversion didn't take for the whole family, ultimately, and Marco Jr. was supposedly a big part of that. He'd been the most enthusiastic convert to Mormonism, but then, according to his cousins, was also behind the family's return to their Catholic roots. Rubio, the likely favorite for the vice-presidential slot,  received his Catholic First Communion at the age of 13. So what's the big deal? Take it away, Buzzfeed:
The revelation adds a new dimension to Rubio's already-nuanced religious history — and could complicate his political future at a time when many Republicans see him as the odds-on favorite for the 2012 vice presidential nod. Vice presidential candidates are traditionally chosen to provide ethnic and religious balance to a ticket. Mitt Romney's Mormonism and Rubio's Catholic faith would already mean the first two members of minority traditions on a Republican ticket in American history. Rubio's Mormon roots could further complicate that calculation.

A sign that Rubio's aides see the story as potentially damaging: BuzzFeed's inquiries appear to have sent them into frantic damage-control mode, and after email inquiries from BuzzFeed — but minutes before Conant responded with a phone call this morning — a brief item appeared on the blog of the Miami Herald mentioning the Senator's religious past.
So the question now looks something like this: Would "secret Mormon" be as politically damaging as "secret Muslim"? Probably not: First of all, it's no longer secret, and even if the fact that Rubio selectively edited his biography to leave that chapter out raises some eyebrows and suggests it's something he finds politically damaging, it's harder for fringe conspiracy theorists (and scruple-free campaign operatives) to really do their thing with something that's out in the open as a fact. And Romney's rise to prominence within the GOP, though not without its bumps, proves that prejudice against Mormons isn't as intractable as prejudice against Muslims.  Besides, even in Rubio's enthusiastic Mormon moment, when, as his cousin Michelle said, he was "totally into it," he was someone the GOP base could love. "He's always been into religion. Football and religion. Those were his things."