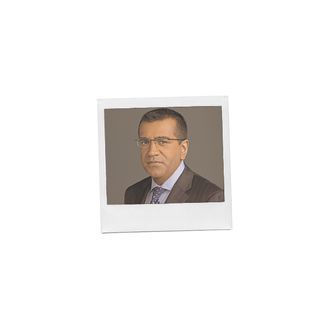 Name: Martin Bashir
Age: 49
Neighborhood: Upper West Side
Occupation: Journalist, this month celebrating the one-year anniversary of his eponymous MSNBC show, on weekdays at 3 p.m. Eastern.   
Who's your favorite New Yorker, living or dead, real or fictional?
The G Force: Gary Haase — musician, composer extraordinaire, and the man who produced my first album Bass Lion.  He puts the sound into New York City and he's very much alive.
What's the best meal you've eaten in New York?
The chili-rubbed rib-eye at Porter House New York is one of the best steaks that I've eaten anywhere in the world.
In one sentence, what do you actually do all day in your job?
For most of the day, I try to understand what's going on in the world, how it might impact this great country, and then we spend an hour discussing the implications (hopefully) in an intelligent and insightful manner on television.
What was your first job in New York?
As a correspondent on a television network.
What's the last thing you saw on Broadway?
It was actually our 15-year-old daughter Eliza, who starred in her musical theater company's performance of Hair.  A week before we saw Kevin Spacey deliver a relentlessly vicious performance as Richard III; before that, we saw Godspell.  
Do you give money to panhandlers?
Yes.
What's your drink?
There are quite a few.  For watching sports, I tend to drink Guinness; early evenings always begin well with a Grey Goose and tonic with plenty of lime; and on a cold winter's night, there's nothing quite like a glass of Black Maple Hill … an absolute peach of a bourbon.
How often do you prepare your own meals?
At least five out of seven days a week.
What's your favorite medication?
Deep Heat muscle balm.  The scent reminds me of my rugby playing career and, though I use it now just for running the Central Park perimeter road, it still warms the legs in preparation for the pain ahead.
What's hanging above your sofa?
An eighteenth-century map of Ireland — from whence my father-in-law came.
How much is too much to spend on a haircut?
$25.  I go to Jack's and everything comes in under $20 (that sometimes includes a drink, too).
When's bedtime?
I tend to adhere to a ditty that an old friend once shared with me: "Christians on their way to heaven must be in bed by eleven."
Which do you prefer, the old Times Square or the new Times Square?
New Times Square … I can remember working here in the late eighties and being genuinely frightened by the hustlers.
What do you think of Donald Trump?
When I filmed with him some years ago, I thought he was an entertaining showman; when he started making bogus and offensive remarks about the president, I found him much less entertaining.
What do you hate most about living in New York?
The cost of cat boarding.  Mia, our Russian Blue, has to board when we're away.  It would be cheaper to book her a room at the Mandarin Oriental hotel than some of the places where she likes to stay.  But nothing is spared for the little princess.
Who is your mortal enemy?
When I was playing for the New York Lions Old Boys Rugby Club, it would be our next opponents … but after breaking my wrist a couple of years ago, I ceased playing so I don't have any mortal enemies.  Many years ago, a psychiatrist friend told me that having enemies is like being a slave … one is chained to the anger.  I'm just trying to do my best in the circumstances and am very happy for everyone else to do the same so I don't cultivate enemies.
When's the last time you drove a car?
About a month ago … rented one and drove to Ikea in New Jersey as we were refurbishing one of the girl's bedrooms. 
How has the Wall Street crash affected you?
Deeply. I had a pension that I was paying into for 27 years …  It's now worth less than a Herman Cain endorsement.
Times, Post, or Daily News?
The Times in totality, the Daily News for local news, the Post for gossip and headlines.
Where do you go to be alone?
Central Park or the gym … and there's a restaurant around the corner where they'll happily allow me to sit in the corner and console myself with a drink after failing to achieve running times. 
What makes someone a New Yorker?
It's the realization that wherever you are in the world, you want to get back to the city.  It could be Basra or Brixton in south London, but you want to get back here, and when you do, there's an abiding sense of relief that you're 'home'.