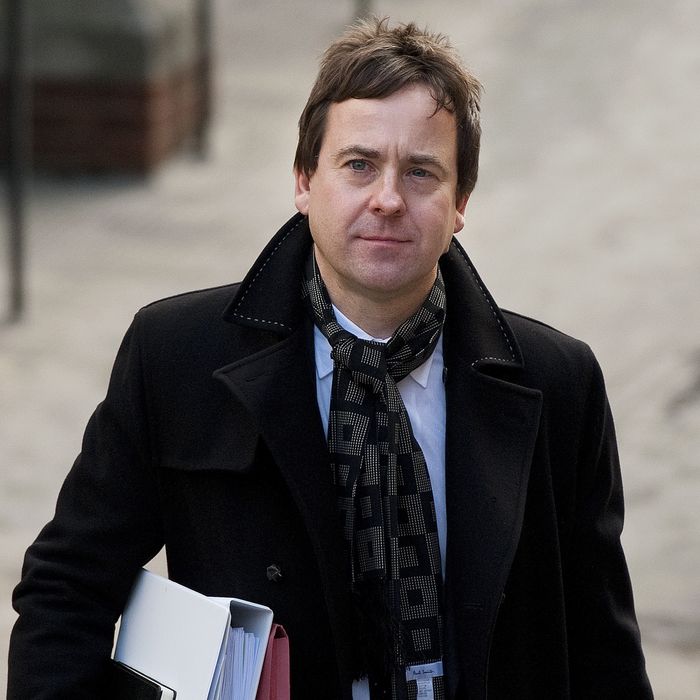 Sun editor Dominic Mohan arrived at press ethics inquiry. (BEN STANSALL/AFP/Getty Images)
Photo: BEN STANSALL/2012 AFP
Two weeks ago the offices of Rupert Murdoch's British tabloid The Sun (and the jewel in his newsprint crown) were raided while four current and former editors there were arrested as part of an ongoing police bribery investigation — this morning, five more of the paper's top editors and reporters were arrested. Murdoch along with his legal consigliere, and former NYC education chief, Joel Klein are now on their way to London to reassure Sun staff that the paper will not share the fate of its sister tabloid News of the World, which Murdoch shuttered last year. Still, that's not stopping speculations about the fate of the paper or its editor, Dominic Mohan.
But the news reports do note something striking about today's developments: These five arrests, plus the previous four, were all based on information that News Corp. itself provided the British police. According to (unauthorized) Murdoch biographer and one-man on-the-media commentariat Michael Wolff, who's feverishly been tweeting about the story all day, this is rather worrying.
New narrative is that it's not just the world against Murdoch and News, but a company that has set upon itself (each man for himself)… I've never known a point in News Corp history with so much internal acrimony
Wolff specifically proposes that Murdoch take out his scalpel and cut The Sun and the Sunday Times clean away, then double down on The Times (of London), which at least maintains a decent level of reader trust. For the moment, though, Murdoch is hammering home that The Sun is safe. The head of News International, the division that oversees the company's British newspapers, already sent out a memo to Sun staff to that effect.
You should know that I have had a personal assurance today from Rupert Murdoch about his total commitment to continue to own and publish The Sun newspaper.
As for its editor, Dominic Mohan, News International has already said that he is "not resigning."
However Murdoch plays this, he now needs to consider not only public opinion and the parallel government inquiries, but also the morale of his own employees. If he does let The Sun, Britain's largest-circulation paper, go under or decides to sacrifice its top staff, he may tighten the tourniquet just enough to staunch this whole hemorrhagic mess. Or it may all backfire horribly, undermining what's left of that famed News Corp. loyalty (and secrecy) and leaving, in Wolff's words, an "each man for himself" corporate wasteland.