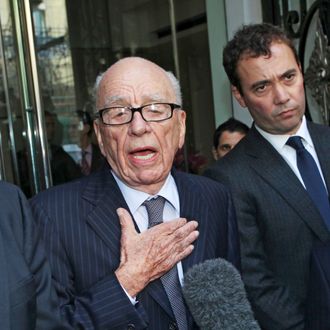 Coming this Sunday.
Photo: Bloomberg/2011 Bloomberg
Undeterred by the stream of shocking and embarrassing revelations from throughout the News Corp. publishing empire — most recently the arrest of several the Sun employees involved in bribing police — Rupert Murdoch is pressing on with something new, a Sunday edition of British tabloid The Sun, titled Sun on Sunday, to launch next week, the paper announced tonight.
Murdoch told worried staffers at his largest British paper last week that he would not shutter the paper like the disgraced News of the World, which suffered the death sentence in the wake of the phone-hacking scandal that remains under examination.
But Rupert's promised good things for the Sunday edition and made no mention of hacking, bribing, puffery, canoodling, favoritism, and especially not celebrity phone hacking, so let's hear his people out.

"This is our moment," News International CEO Tom Mockridge told his staff last night. "I am sure every one of us will seize the opportunity to pull together and deliver a great new dawn for The Sun this Sunday."
"This is a truly historic moment in newspaper publishing and I am proud to be part of it," said Sun editor Dominic Mohan, whose job was in doubt given the recent arrests. "The Sun's future can now be reshaped as a unique seven-day proposition in both print and digital. Our readers' reaction to the announcement of a seventh-day Sun has been huge and we won't let them down."