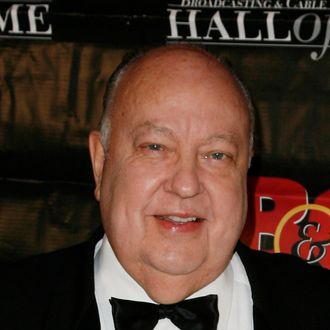 Photo: Joe Kohen/2008 Joe Kohen
Roger Ailes's contract is up in the summer of 2013. Whether the Fox News boss stays or leaves, the body of literature chronicling his impact on American life continues to grow.
For the past year, I've been at work on a book about Fox and Ailes, which Random House is scheduled to publish next year. While reporting my book, I learned in December that Ailes had finally decided to write his autobiography along with Fox host Jim Pinkerton, in part as a response to my book. Now, Ailes is also getting the treatment from journalist Zev Chafets, who is writing a book about Ailes for the conservative Penguin imprint, Sentinel. "It's a good subject," Chafets told me by phone. "He's an unexplored person."
Chafets, 64, is an Israeli-American writer who spent five years as director of Israel's government press office when Menachem Begin, the founder of the conservative Likud Party, was prime minister.* In 2010, he published a Rush Limbaugh biography.
Sentinel specializes in books that are likely to strike a chord with the Fox audience, including Mike Huckabee's A Simple Christmas, 48 Liberal Lies About American History by Larry Schweikart, The Truth About Hillary by Ed Klein, and the pro-Palin book The Persecution of Sarah Palin by Weekly Standard scribe Matthew Continetti.
Chafets told me the idea for an Ailes book came up while he was casting about for his next project after finishing the Limbaugh biography. "Rush said something like, 'the template for Fox was his show,'" Chafets said. Chafets got extensive access to Limbaugh and the resulting book was favorable (Limbaugh promoted it on his show). When I asked if Ailes is giving him similar access, he was coy: "I can't really discuss much of what I'm doing." 
With the market for Fox News books growing, Ailes may want to ensure that bookshelves are fair and balanced. A book published by Sentinel could be a counterweight to the forthcoming book by the anti-Fox group Media Matters. Their book, The Fox Effect, is written by David Brock and Ari Rabin-Havt, and hits bookstores on February 21. 
*  An earlier version of this post incorrectly reported that Chafets was press secretary to Begin.