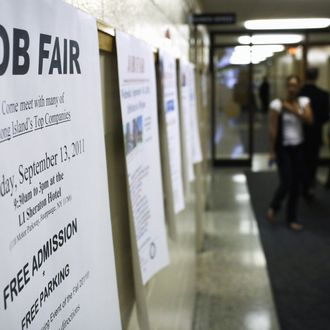 Hiring is on the up.
Photo: Spencer Platt/2011 Getty Images
New claims for unemployment benefits dropped by 13,000 to 348,000 last week, the fourth drop in five weeks and the lowest number of claims in nearly four years, according to the Labor Department. And at the same time, hiring is up: The economy added a net 243,000 jobs in January, the most in nine months, bringing the average gain over three months to 201,000, dropping the unemployment rate down to 8.3 percent. That's still pretty high, but it's progress.

There's positive housing data as well:
The Commerce Department reported that housing starts rose 1.5 percent to an annual rate of 699,000 units last month, beating economists' expectations for a 675,000-unit pace.

Starts were boosted by multi-unit buildings, reflecting growing demand for rental apartments as Americans move away from homeownership. Permits for future home construction rose 0.7 percent to a 676,000-unit pace in January.

Home building is expected to add to economic growth this year for the first time since 2005.
"The new home sales numbers have not yet responded," said Ian Shepardson, chief United States economist at High Frequency Economics, "but builders seem confident that if they build, buyers will come."
Yes! We've heard that before. If you build it, they (or he) will come.