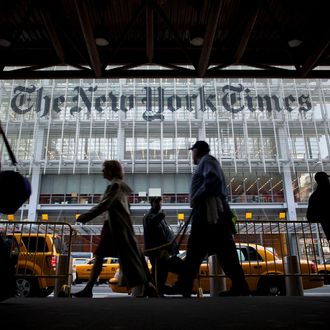 Photo: Michael Nagle/Bloomberg via Getty Images
The New York Times Company reported its fourth-quarter losses today and, as expected, profits declined more than 12 percent. Even increased revenue from digital advertising and subscriptions failed to offset the continuing fall of print advertising and millstones like About.com, where revenue declined 25.9 percent. Those numbers bring the year to a disappointing close for the company, which reported a net loss of $39.7 million in 2011 (and an overall debt of $773.1 million) after having recently pushed out its CEO Janet Robinson.
There is some growth at the company's main properties, News Media Group, including the New York Times, Boston Globe, and International Herald Tribune, which saw fourth quarter increases of 5.3 percent in digital advertising and 4.7 percent in circulation revenue, thanks in part to the Times' online paywall. The flagship paper now counts 390,000 digital subscribers, up from 324,000 at the end of September. (Update: The Times' story about the Times Company included an error: the 390,000 subscribers included those to the Tribune; the number has since been deleted, but not replaced. The article actually included four mistakes.)
As indicated by the company's selling off of its regional papers, the Sulzberger empire is working to slim down all around, and plans to sell an additional part of its stake in the Boston Red Sox, as they did last year, for $30 million more, pending approval from the MLB.