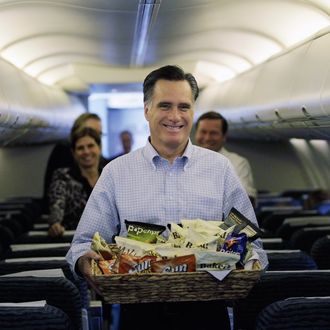 Mitt Romney.
Photo: Joe Raedle/2012 Getty Images
Mitt Romney gets a lot of campaign contributions from other wealthy people. That's the main takeaway from today's campaign-finance disclosures, which reveal who, exactly, is giving all that money to the mysterious super PACs, for which there's no $2,500 individual donation limit. Romney's biggest backers, via super PAC, sound like they wouldn't be too personally affronted by Romney's remark last night that he isn't concerned with the very poor. The Times:
Millions of dollars came from financial industry executives, including Mr. Romney's former colleagues at Bain Capital, who contributed a total of $750,000; senior executives at Goldman Sachs, who contributed $385,000; and some of the most prominent and politically active Republicans in the hedge fund world, three of whom gave $1 million each: Robert Mercer of Renaissance Technologies; Paul Singer of Elliott Management, and Julian Robertson of Tiger Management.

Harlan Crow, the Texas construction magnate, gave $300,000 personally and through his company. William Koch, whose brothers Charles and David are among the country's most prominent backers of conservative causes, gave $1 million personally or through Oxbow Carbon, the energy company he founded. Members of the Walton family, founders of the Walmart chain, gave over $200,000, while Bob Perry — a wealthy home builder who has long been the top patron of Mr. Romney's erstwhile rival, Gov. Rick Perry of Texas — chipped in $500,000 in early December.
Obama's top super PAC backer, meanwhile, is Jeffrey Katzenberg, who gave $2 million to a group called Priorities USA Action. (And if you're wondering about where Stephen Colbert's mysterious money came from, well, there's no Sheldon Adelson-esque figure driving it. Only one person gave more than $5,000, and most donations were under $200.)
Romney, sans super PAC money, raised just $57 million, compared with Obama's $140 million from his network of bundlers and grassroots donations last year. But those numbers don't even come close to painting the whole picture, as the super PAC disclosures reveal. Republican groups outraised their Democratic counterparts by four to one, a fairly incredible ratio. This could very well be a year in which, stunningly, an incumbent gets outspent by the challenger.