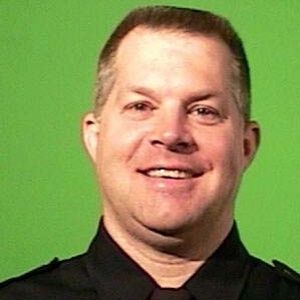 Detective Kevin Herlihy.
Photo: Credit: Handout
Eighteen-year veteran NYPD detective Kevin Herlihy was shot in the arm by a career criminal in an intense gunfight in a Harlem subway station late Tuesday afternoon. Herlihy fired back repeatedly, killing a man wanted for shooting his ex-girlfriend's daughter in the head on Monday.
Herlihy, who was part a Queens Violent Felony Squad unit tracking 52-year-old perpetrator Michael McBride, was treated at Columbia Presbyterian Hospital and is expected to be just fine. 
The New York Post reports that Herlihy and McBride exchanged as many as nineteen shots during the firefight, "sending terrified straphangers running for cover in the crowded station at St. Nicholas Avenue and West 145th Street."
After Herlihy caught up to McBride inside the station, all hell broke loose when McBride pulled out a .22 caliber pistol and opened fire. McBride died at the scene.
Mayor Bloomberg addressed the media from Columbia Presbyterian late Tuesday night. For the balance of the statement, Bloomberg emphasized the need for stronger gun laws and referenced two other recent cop shootings. He said in part:
"We're here in the 32nd Precinct and murders here are, I'm happy to say, 55 percent lower than they were just 10 years ago. But we all know that that is not good enough. And as long as Federal laws allow guns to flow onto our streets, criminals will be able to get them and Police Officers will be in danger.

"My one birthday wish – beyond a full recovery for Detective Herlihy – would be for every member of Congress to join me here today and look into the eyes of Detective Herlihy and his wife Adrienne and explain why Washington isn't doing more to prevent shootings like this from happening.

"Public safety must be government's number one priority. We owe that to our citizens, and we owe that to our police officers. And you can be sure that we will continue doing everything possible to convince Washington to live up to that responsibility."