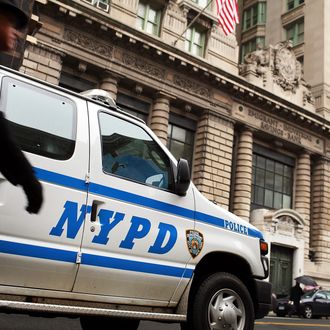 Photo: Spencer Platt/2012 Getty Images
A few months ago an AP investigation uncovered an intensive NYPD effort to spy on Muslim students in several New York City colleges. The latest update from the AP finds that the program has actually included surveillance operations at a much wider network of schools, including several outside New York. (Just a few: Yale, Rutgers, Syracuse University, SUNY Buffalo and SUNY Albany.) In many cases, like in the example below, the police used student informants or outright infiltrated Muslim student meet-ups.
>
Police talked with local authorities about professors 300 miles away in Buffalo and even sent an undercover agent on a whitewater rafting trip, where he recorded students' names and noted in police intelligence files how many times they prayed.
Many of the students reached by the AP were understandably shocked that their names were showing up in reports prepared for NYPD commissioner Ray Kelly, often simply for being active in Muslim student associations or for receiving and forwarding e-mails about upcoming Islamic conferences. At least one student, who had been on the whitewater rafting trip mentioned above, conceded that, "There's lots of Muslims doing some bad things and it gives a bad name to all of us, so they have to take their due diligence." But this clearly seemed to be a minority opinion.