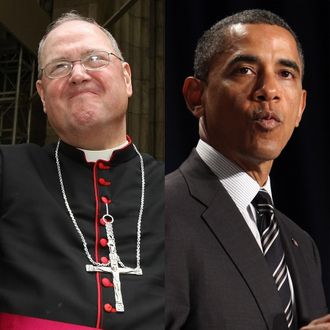 Photo: Neilson Barnard/Getty Images, Chris Kleponis-Pool/Getty Images
President Obama's mandate that religious organizations include birth control coverage in their health insurance for employees has activated dissent from both Republicans on the campaign trail and religious leaders, led by New York's own Archbishop Timothy Dolan. Today the White House announced a mild compromise that aims to "accommodate" religious groups by involving health insurance companies that can help provide the coverage, after Dolan and other church leaders attempted to frame the issue more broadly as one about religious freedom and the First Amendment.
"Never before has the federal government forced individuals and organizations to go out into the marketplace and buy a product that violates their conscience," Dolan said in a video announcement filmed immediately after Obama's initial birth control decision. "This shouldn't happen in a land where free exercise of religion ranks first in the Bill of Rights." The New York Times reports today that Roman Catholic bishops around the country have, for seven months, planned to fight against perceived threats to religious freedom, including gay marriage, but the birth control decision "was their Pearl Harbor."
The Obama administration announced a compromise this afternoon that will require insurance companies to cover the cost of birth control when religious employers object. "Under the new policy announced today, women will have free preventive care that includes contraceptive services no matter where she works," the White House said in a statement. "If a woman works for religious employers with objections to providing contraceptive services as part of its health plan, the religious employer will not be required to provide contraception coverage but her insurance company will be required to offer contraceptive care free of charge."
Planned Parenthood supported the decision in a statement: "In the face of a misleading and outrageous assault on women's health, the Obama administration has reaffirmed its commitment to ensuring all women will have access to birth control coverage, with no costly co-pays, no additional hurdles, and no matter where they work. We believe the compliance mechanism does not compromise a woman's ability to access these critical birth control benefits." The Catholic Health Association also said they are "very pleased with the White House announcement that a resolution has been reached that protects the religious liberty and conscience rights of Catholic institutions."
The Obama administration, while relatively quick find a compromise, also claimed the church is out of touch with its constituents on the issue of birth control. "The mainstream religious voice has supported contraception for decades, at least for the last 40 years," explained the executive director of the Religious Institute, a liberal interfaith group. Poll numbers seem to agree:
Studies have shown that 98 percent of Catholic women have used artificial contraception at some time in their lives. A poll released on Tuesday by the Public Religion Research Institute in Washington found that 52 percent of Catholic respondents agreed that even religiously affiliated colleges and hospitals should have to provide their employees with health care plans that cover contraception. (Among Catholic voters, however, 52 percent disagreed and only 45 percent agreed).
That is why Dolan and other Catholic leaders led a letter-writing campaign in which bishops express larger worries about the so-called war on religion. "The bishops really are convinced that this is a direct abridgement of their First Amendment religion rights," one expert explained. "From their perspective, this really isn't about contraception." They have Republicans on their side who are more than happy to fire up the culture wars, and see contraception as one with same-sex marriage and abortion laws.
But even within the White House there was some divide on the issue. Former chief of staff Bill Daley, Politico reports, set up a meeting in the Oval Office between Obama, Joe Biden (who along with Daley is Catholic), and Archbishop Dolan back in November. While the president had not yet made a decision, he felt "mildly uncomfortable," like Daley had put him on the spot. ("Think of this as Bill Daley's parting gift to the White House," an abortion-rights activist quipped to Politico.) While the decision ultimately didn't go Dolan's way at first, he has managed to increase the president's discomfort since. Whether it might actually galvanize religious voters remains to be seen, and their impact could still potentially be outweighed by more liberal religious voters, women's groups, and public health advocates, who have just as much to fight for.
This post has been updated throughout.