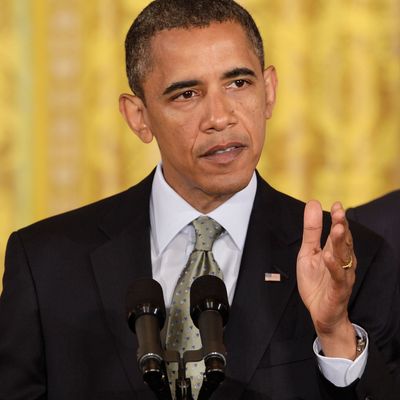 Photo: Chip Somodevilla/2010 Getty Images
The Obama administration is facing a spirited if top-heavy push-back from Republicans in Congress and on the campaign trail, along with Catholic leaders, about a decision requiring health insurance plans from religious institutions to include birth control for employees. "We certainly don't want to abridge anyone's religious freedoms, so we're going to look for a way to move forward that both provides women with the preventative care that they need and respects the prerogatives of religious institutions," said senior adviser David Axelrod yesterday. But while White House press secretary Jay Carney assured "the president is very interested in finding the appropriate balance between religious beliefs and convictions," he said there is not a reversal coming. "The president is committed to making sure that all women have access to these important preventive services," Carney said. Republicans appreciate the opening. 
To hear the Washington Post and New York Times tell it, the contraception issue, in addition to the prolonged uproar about Komen and Planned Parenthood, represents a bubbling up of social issues, which have mostly been overshadowed by economic concerns of late. Republican Senator Mitch McConnell called the rule "abhorrent to the foundational principles" of the U.S., while all GOP contenders yesterday utilized their new ammo as well. Romney called the law "a real blow, particularly to our friends in the Catholic faith," but his more conservative rivals complained that Romney allowed a similar law to pass while he was governor of Massachusetts.
And yet the Obama administration has numbers on their side, including polls indicating that most Catholics favor the rule, despite the outcry from church officials. "We've seen in the last week the reaction of women and men when you start putting ideology ahead of health concerns," Planned Parenthood president Cecile Richards told the Times. "There have been a lot of Beltway voices that do not represent how important an issue this is."
The president's advisers were well aware of the rule's divisiveness, and the administration is again being split publicly along gender lines. Health and Human Services Secretary Kathleen Sebelius, a Catholic, and other female advisers like Valerie Jarrett, urged Obama to push for coverage for all women, while Catholic men like Joe Biden and then-chief of staff Bill Daley warned about alienating even moderate Catholic voters.
Others are less concerned. "Contraception is not a politically controversial issue in this country," said Judith L. Lichtman, an adviser with the National Partnership for Women and Families in Washington. "It's an energizing issue for all women reflecting all demographics." The opposition, of course, feels some of the energy too, and even if most people agree with the president, the other side is loud enough to make it look like a fight.