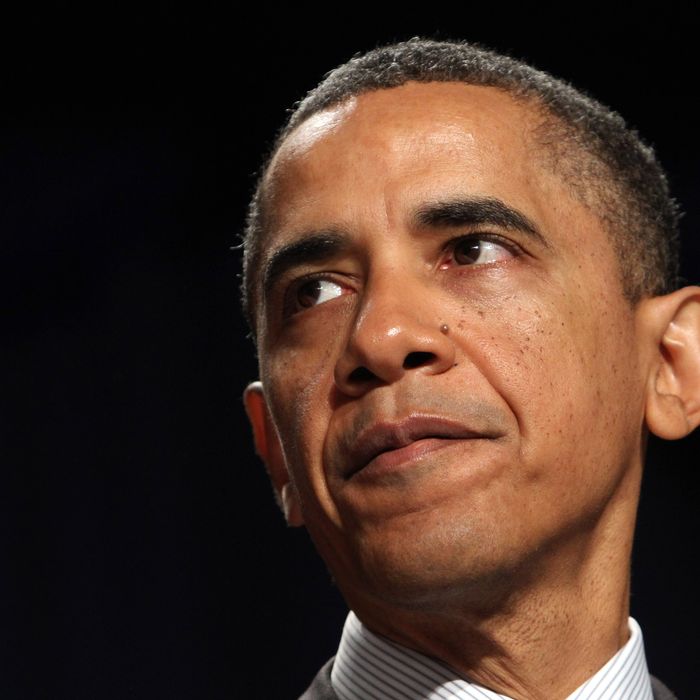 U.S. President Barack Obama speaks at the National Prayer Breakfast February 2, 2012 in Washington, DC. Obama defended his economic policies, echoing his recent State of the Union address.
Photo: Chris Kleponis-Pool/Getty Images
Traditionally, Democratic candidates could always count on Hollywood's elite to provide a large source of campaign funding. That's still true, of course, and that's part of the reason Barack Obama is headed out to the West Coast for a fund-raising swing. (Obama got $9.2 million from such donors in the last election cycle.) But he's also there for the other big font of West Coast cash that's bubbled up in recent years — tech money. The problem, reports the Times, is that Hollywood and Silicon Valley aren't getting along so well these days, thanks to SOPA. And Hollywood is angry at Obama for not supporting the anti-piracy legislation, which Google and other tech giants opposed in a very big way. It's more than just hurt feelings; it's translating into emptier campaign coffers.
Christopher J. Dodd, the president of the Motion Picture Association of America, created a stir — and ruffled White House feathers — just after the drubbing last month when he threatened to turn off the spigot, saying in an interview with Fox News: "Those who count on quote Hollywood for support need to understand that this industry is watching very carefully who's going to stand up for them." The White House acknowledged privately that his comment was not received warmly.

But, as if to prove Mr. Dodd's point, the Center for Responsive Politics reports that money for Mr. Obama from Hollywood was down last year, coming in at just $1.2 million, compared with $2.8 million during the same period in 2008.
The campaign has tried to offset the anger over SOPA by indicating that the administration will be stricter in enforcing copyright law in China, but they're not budging at home. Hollywood is big, but not the biggest game in town (or, more accurately, on that coast). "The problem for Hollywood here is that they contribute only about 1/10 as much to the national economy" as the tech sector, Democratic consultant Donnie Fowler told the Times. "Plus their stars and starlets can't match up against hundreds of thousands of netizens who go nuts when their Wikipedia and Google go dark for a day."
Obama's enjoyed a run of luck in recent weeks — his approval rating is back up over the crucial 50 percent mark — but Hollywood isn't the only industry that the president's offended of late and that he needs badly to hit up for cash. He's been on rocky terms with Wall Street for a while, of course, but just lately, he called for increased taxes on the rich in his 2013 budget. He's asking Wall Street supporters to put any animus from that aside at a fund-raiser on March 1 and cough up $35,800-per-person for dinner at ABC Kitchen. Tough sell! And, just as in Hollywood, Obama's already behind on fund-raising within the industry this time around. In '08, he raised $16 million total from the sector's employees; he's not on track at all for similar numbers this time. He'll get some practice on the West Coast, but he's got to figure out how, exactly, to go to them with hat in hand — not just out of humility, but outstretched in search of loose change.