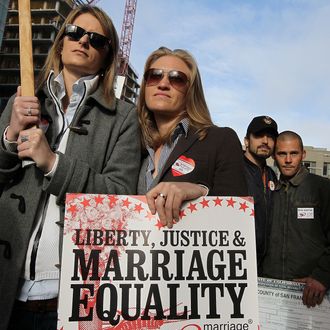 Photo: Justin Sullivan/2011 Getty Images
Proposition 8, the voter-approved law banning same-sex marriage in California, has been declared unconstitutional by a federal appeals court. Three judges in San Francisco today ruled 2-1 that a 2010 lower court ruling should stand because Prop 8 violates the civil rights of gays and lesbians. Unfortunately, this doesn't mean everyone can just go out and get married now: Supporters of Prop 8 plan to appeal to a larger panel of Ninth Circuit judges and ultimately to the U.S. Supreme Court, if necessary.
"Although the Constitution permits communities to enact most laws they believe to be desirable, it requires that there be at least a legitimate reason for the passage of a law that treats different classes of people differently. There was no such reason that Proposition 8 could have been enacted," says the ruling.
Supporters of the law were fighting both on constitutional grounds and arguing that the Ninth Circuit decision should be invalid because of U.S. Judge Vaughn Walker's sexuality. The court today decided there was no evidence that Walker was biased because he is gay. The three judges on today's panel were appointed by presidents Jimmy Carter, Bill Clinton, and George W. Bush; the Republican judge dissented.
After the ruling came down, former San Francisco mayor and current Lieutenant Governor of California Gavin Newsom tweeted, "We won!!"
This post has been updated throughout.