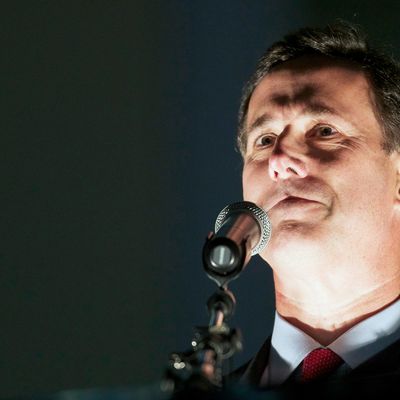 Photo: Stephen Brashear/2012 Getty Images
Michigan feels like a must-win for Romney, yet Nate Silver gives Santorum a 77 percent chance of winning. If you were Romney's campaign, what would you spend the rest of this month doing?
Romney cannot lose Michigan — his home state and a state where he beat McCain last time — period. And right now he seems determined to lose it by digging deeper into the hole he created in 2008 with his "Let Detroit Go Bankrupt" op-ed for the Times. This month, even George W. Bush defended the auto bailout (initiated by his White House) as staving off "21 percent unemployment." But Romney has doubled down, reasserting his 2008 stand in a new op-ed this week for the Detroit News. (Santorum was also against the bailout, but is not advertising his opposition now.) Maybe Romney can win in Michigan by his default campaign strategy, the overwhelming force of negative ads. But his wealth might be put to better use on an Oprah strategy: Award new American cars by lottery to as many Michigan primary voters as possible. In one masterstroke, Romney could buy votes, boost the auto industry further, and make his ideological case that only private capital could have rescued Detroit.
Could Santorum really be a greater threat to Obama than Romney?
As the political press tells us constantly, Romney would do far better among independents and moderates. And he would indeed, in places like — shall we say? — Westchester County, Brookline, Bethesda, Greenwich, Grosse Pointe, and Brentwood. But the election isn't going to be decided in blue-state enclaves. This election is about places like Ohio, Florida, Pennsylvania, and North Carolina. And among working-class white voters whom the Republicans need to win in swing states, who is going to inspire more enthusiasm — a (sort of) working-class Catholic from Pennsylvania or the patrician Mormon venture capitalist from Massachusetts who is now best known for laying off workers? Public Policy Polling surveys have for months consistently showed Mitt doing better than each successive non-Mitt in a face-off with Obama. But this week that pattern was broken when PPP found that Santorum would actually be a slightly stronger candidate than Mitt. (The PPP poll also shows both Romney and Santorum losing to Obama, by the way.) And where it counts most on the electoral map, I agree that Santorum could well be the stronger candidate. Though, for me, that's something of a distinction without a difference, given my conviction that Romney has always been a paper tiger.
 
But wouldn't Santorum's hard-right positions on cultural issues like abortion, gay rights, and contraception be a burden in the general election that Romney wouldn't have?
The longer the GOP race continues, the more Romney mimics Santorum's positions on these issues. No matter who the candidate is, it looks like Obama has the gift of running against the anti-contraception party. The only thing that could be better is if the GOP decides to bring back Prohibition.
Obama does seem to be riding high these days. What's the one thing in his control — excluding unemployment numbers, Europe, Iran — that's most likely to bring him down?
His tendency to get cocky and coast when he's ahead. He's indeed doing well right now — and not just because of the uptick (however transitory) in the economy. He is for the first time in a while exuding sunny confidence.  His pivot into populism, while slow in coming, has been pitch-perfect ever since he rolled it out in his December speech in Osawatomie, Kansas. And his rubbing the Republicans' faces in the payroll tax-cut extension this week has been choice. But his surges in 2008 were often followed by damaging lapses, and once again he could overplay his hand by condescending to either his opponent ("You're likeable enough, Hillary") or to voters (who "cling to guns or religion"). Obama must shake his recurrent tendency to drink his own Kool-Aid.