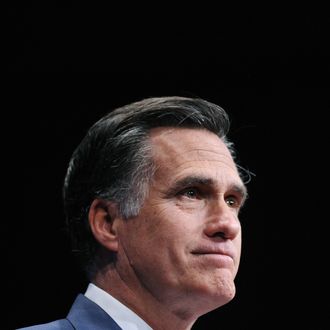 Romney.
Photo: MANDEL NGAN/AFP
"Son of Boss" is the nickname of a tax shelter used by Marriott International Inc. during Mitt Romney's tenure as a Marriott director, when he was also the head of the company's audit committee in 1994.

The name sounds sinister, and far as tax avoidance schemes go, it is. Reuters reports in a story about a "Son of Boss" case that reached the Supreme Court this year: "First appearing in the late 1990s, 'Son of Boss' shelters were some of the costliest tax schemes in U.S. history. 'Boss' was an acronym for 'bond and option sales strategies.' The shelters involved creating paper losses to offset real gains."
Romney has served on Marriott's board for eleven of the past nineteen years (and left last year), six times as chairman of the audit committee. Bloomberg reports that during Romney's tenure, "the company repeatedly utilized complex tax-avoidance maneuvers, prompting at least two tangles with the Internal Revenue Service, records show."
Romney's responsibilities as a board member involved overseeing tax planning conducted by management; as a chairman of the audit committee, he was charged with reviewing financial reporting. Eventually, the courts examined Marriott's use of a Son of Boss shelter and called it illegitimate despite Marriott lawyers' insistence that the company was using a permissible tax-reduction strategy.

A federal appeals court invalidated the maneuver in a 2009 ruling, siding with the U.S. Department of Justice, which called Marriott's transaction and attempted tax benefits "fictitious," "artificial," "spectral," an "illusion" and a "scheme." Marriott had argued the plan predated government efforts to close such shelters.

Employing another strategy, Marriott legally avoided hundreds of millions of dollars in income taxes thanks to a federal tax-credit program criticized and allowed to expire by Congress. Marriott has also shifted profits to a Luxembourg shell company. During Romney's years on the board, Marriott's effective tax rate dipped as low as 6.8 percent, compared with the federal corporate statutory rate of 35 percent.
A Romney campaign spokeswoman referred inquiries about Romney's involvement with Marriott's tax planning to Marriott, whose spokesman said, "Marriott only engages in transactions that we believe are in accordance with the tax code and that we think will create shareholder value."