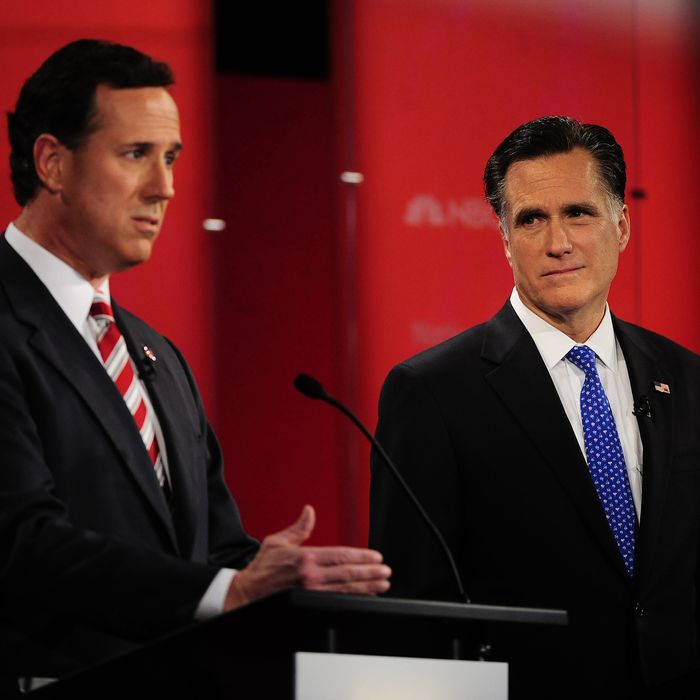 Which one of these men would you rather vote for? Now pretend you're an unemployed machinist in Youngstown, Ohio.
Photo: Emmanuel Dunand/AFP/Getty Images
As happens every time a non-Romney Republican surges into the national lead, liberals are giddy over the possibility that the opposing party is once again contemplating electoral suicide. But is it really? Unlike previous Romney opponents of the past, Santorum is not a pure clown, and it's far from clear that he'd have a harder time beating Obama.
Santorum has attracted a terrible reputation among the overclass. He is defined by his crude, bigoted social conservatism, which colors the broader perception of him as an extremist. This in turn leeches out into a sense, often reflected in news coverage, which likewise reflects the social biases of the overclass, that Santorum is a fringe candidate who would repel swing voters.
In fact, there are, very roughly speaking, two kinds of swing voters. One kind is economically conservative, socially liberal swing voters. This is the kind of voter you usually read about, because it's the kind most familiar to political reporters – affluent and college educated. But there's a second kind of voter at least as numerous – economically populist and socially conservative. Think of disaffected blue-collar workers, downscale white men who love guns, hate welfare, oppose free trade, and want higher taxes on the rich and corporations. Romney appeals to the former, but Santorum more to the latter.
As hard a time as Santorum would have closing the sale among certain moderate quarters, I don't think it's sunk in quite how poisoned Romney's image has become among downscale voters. Coverage of Romney's wealth, corporate history, and partially released tax situation coincided with, and almost certainly caused, a collapse in his support with white voters with income under $50,000. Republicans have enjoyed great success attracting downscale whites in recent years, but that success has hinged in part on things like not nominating standard-bearers who epitomize everything blue-collar whites distrust about their party.
Indeed, at the moment Romney and Santorum both fare about equally well against Obama. (Not very well at all, I'm afraid.) Now, we have to take the comparison with a grain of salt, as Obama has spent months tearing down Romney while leaving Santorum relatively untouched.
Some conservatives are pushing the notion that Santorum is more electable than Romney because he advocates a purer and more naturally articulated form of right-wing ideology. That seems like obvious hokum – can there be any doubt that conservative Republicans will crawl to the polls to defeat President Obama if their nominee is Romney or anybody else? They attract different kinds of swing voters, and the question is who can attract more of them. If I were a Republican, I'd still bet on Romney. But unlike previous matchups — Romney versus Rick Perry, the dumber, crazier George W. Bush, Romney versus Newt Gingrich, the loathsome wildly adulterous bore — the relative electability of Romney versus Santorum is hardly obvious.