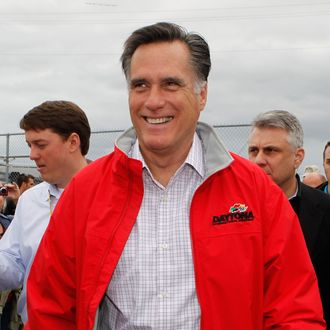 Republican presidential candidate, former Massachusetts Gov. Mitt Romney walks in the garage area prior to the start of the NASCAR Sprint Cup Series Daytona 500 at Daytona International Speedway on February 26, 2012 in Daytona Beach, Florida.
Photo: Jonathan Ferrey/Getty Images
"Not as closely as some of the most ardent fans. But I have some great friends that are NASCAR team owners." –Mitt Romney, when asked at the Daytona 500 yesterday how closely he follows NASCAR.