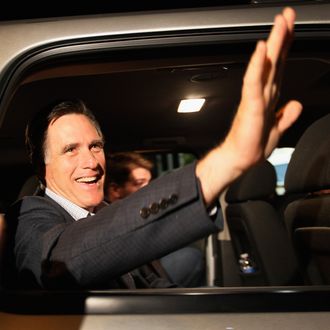 See him riding.
Photo: Joe Raedle/2012 Getty Images
On Thursday, Mitt Romney was called to answer for his callous-sounding gift to the Obama campaign, his regrettable remark in an interview yesterday that's been reduced to, "I'm not concerned with the very poor." Romney's answer on Thursday to Las Vegas reporter Jon Ralston is that he misspoke.
To backtrack a bit, Romney's statement on Wednesday in full:
"I'm not concerned with the very poor. We have a safety net there," Romney told CNN. "If it needs repair, I'll fix it. I'm not concerned about the very rich, they're doing just fine. I'm concerned about the very heart of America, the 90 percent, 95 percent of Americans who right now are struggling."
And here's how Jon Ralston of Face to Face with Jon Ralston put it to the Republican front-runner:
"Major Garrett pointed out that you have said similar things along the trail. But that it reinforces this perception that this Mitt Romney, he's up here and the rest of us are down here and you just can't relate to regular folks. Put that into context for me. "
Romney's response:
"Jon, it was a misstatement. I misspoke. I've said something that is similar to that but quite acceptable for a long time. And you know when you do I don't know how many thousands of interviews now and then you may get it wrong. And I misspoke. Plain and simple."
But what did he misspeak about? Video of Ralston's interview isn't available yet, only the transcript, so it reads like Romney simply attempted to stamp out the fire right there. According to the Washington Post, Romney's campaign responded to criticism of the comment by pointing to the context, but didn't back off or "clarify" the quote.
In other words, Romney wants Joe Public to give him a damn break.