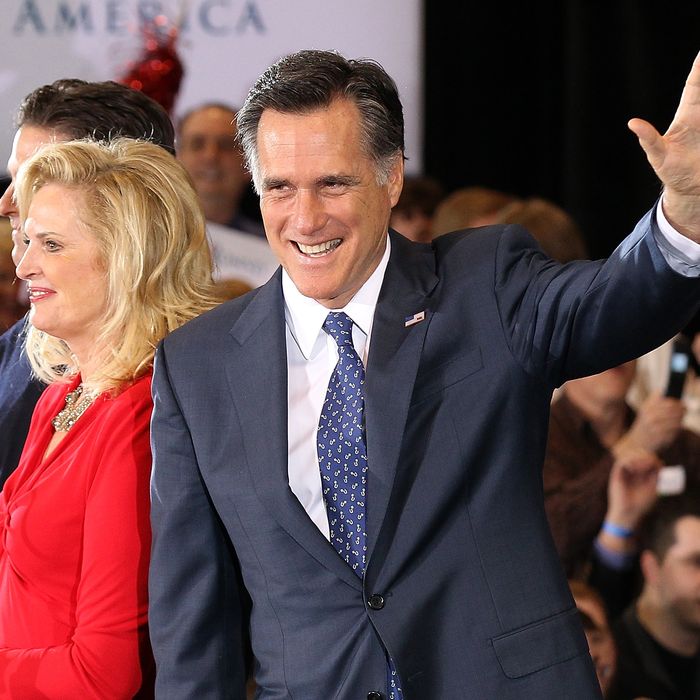 We just drove "a couple of Cadillacs" over Santorum.
Photo: Justin Sullivan/2012 Getty Images
In the days leading up to tonight's primaries, various Republican officials issued a series of increasingly dire warnings about what would ensue if Mitt Romney lost the Michigan primary. Unrestrained panic.  Another desperate effort to draft a new candidate. A contested convention. The dead rising from the grave, human sacrifice, dogs and cats living together.
It sounded like a blast.
But, sadly, it is not to be.
Romney has won his home state, averting a total collapse, without quite putting to rest his difficulties with the conservative base. So he will slog on into the next week in a race he continues to win primarily by default.
Rick Santorum is the latest Romney opponent who has failed in almost every way a candidate can fail. He has raised little money, put together no organization or even much of a campaign staff, and seemed to melt in Romney's presence at debates. Incredibly, Santorum allowed Romney to frame the debate as centering on Santorum's deviations from conservative orthodoxy. He is neither an inspirational grassroots firebrand nor a respected insider. He combines the nuttiness of a Michelle Bachmann with the inspiration of Buddy Roemer.
Santorum's quixotic campaign has increasingly turned the Republican race into a freak show, and the freak show will go on for at least another week, and possibly for months. Romney is grinding out victories state by state, but he continues to require large financial advantages to do it. Republicans do not want to nominate him. But they continue to have no real alternative.