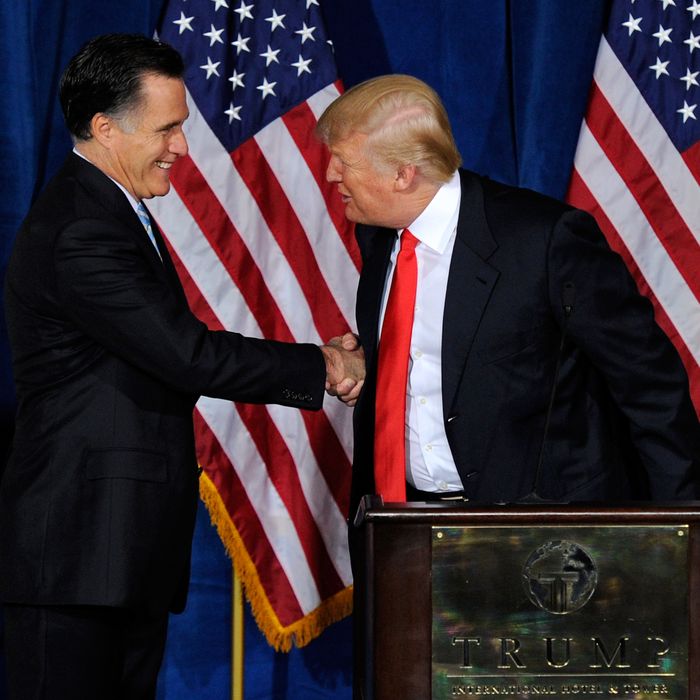 Romney's hand is basically on Trump's nipple.
Photo: Ethan Miller/2012 Getty Images
It's well known that Donald Trump, a germaphobe, doesn't like shaking hands. Less well known is that when forced to shake hands, Trump has a very specific technique, one that various handshake websites refer to as "the pull in." Once Trump latches onto your hand, he will vigorously — here's where the name comes in — pull you in close to his body, as if your arm is the rope in a game of tug-of-war. Presumably some type of power-executive move Trump uses to demonstrate dominance over his handshaking partners, the pull-in is Trump's go-to handshake, regardless of whose hand he's shaking.
Here's Trump using it on Donny Deutsch:
And here's Trump trying the pull-in on original Apprentice winner Bill Rancic:
You can see that the pull-in turns into a brief, jerky arm-wrestle if the person on the other end decides to offer resistance. That is, in fact, what transpired this afternoon between Trump and Mitt Romney in Las Vegas.
The photo at the top of this post was taken just after Trump endorsed Romney and introduced him to the podium. Trump's pull-in was executed so flawlessly, the back of Romney's hand ended up basically caressing Trump's nipple.
However, when the men shook again after Romney's remarks, the pull-in did not unfold as smoothly for Trump, resulting in a subtle but palpable battle for handshake supremacy. Ultimately, though, Romney proved no match for Trump, and was slowly drawn in, as if compelled by a tractor beam. For your convenience, here is an animated GIF of the moment, the better to relive it over and over and over again.
Trump's message is clear: You may be the big-shot president some day, but I am still Donald Trump.