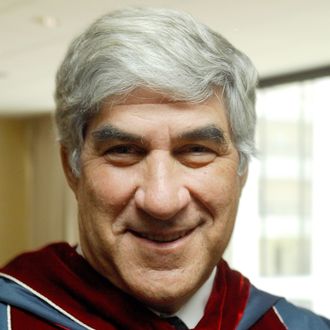 Bruce Kovner is watching over Mitt Romney.
Photo: Joe Corrigan/Getty Images
This election season, each candidate seems to have his own personal billionaire in his corner pouring unchecked amounts of money into their respective super PACs.  Foster "Hold an Aspirin Between Your Knees" Friess has single-handedly helped to keep the campaign of Rick Santorum afloat during some hard times, while casino magnate Sheldon Adelson may soon boost his total contributions to Newt Gingrich's super PAC to a ridiculous $20 million. But what about poor — "poor" —  Mitt Romney? Where are his guardian angel billionaires? 
We may not hear as much about them, but make no mistake, they exist. According to new FEC filings, a pro-Romney super PAC, Restore Our Future, pulled in $6.6  million last month alone, and $4.9 million came from just 25 people. Three of those individuals donated $500,000  apiece, according to the Times. They are:
Joseph W. Craft: An "Oklahoma mining executive" with a net worth of $1.3 billion, per Forbes. 
Bruce Kovner:  A New York hedge fund manager worth $4.3 billion, according to Forbes. 
David Lisonbee, a fellow Mormon and "the founder of a Utah vitamin supplements company," the 4Life Corporation. We can't tell if he's a billionaire, but he's doing pretty well for himself if he has $500,000 laying

 

around.
Ron Paul has his own billionaire fanboy, too: Silicon Valley titan Peter Thiel, who you may remember from The Social Network as an early investor in Facebook, gave $1.7 million to a pro-Paul super PAC last month. That's in addition to the $900,000 he gave in December.  When you're running for president, it's good to have friends in high places.