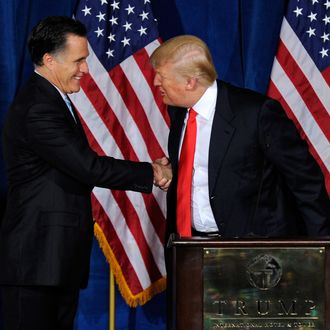 It must've been the Donald Trump endorsement and
handshake tug-of-war
that clinched Romney the state. (Ethan Miller/Getty Images)
Photo: Ethan Miller/2012 Getty Images
Nevadans have been showing up at high schools and community centers since early this morning for that state's caucuses, the first Republican contest in the west, and all pundits and prognosticators expect a big (BIG) win for Mitt Romney. Nate Silver of FiveThirtyEight has Romney winning 50 percent of the vote, while Jon Ralston, a Nevada-based TV journalist, has been tracking early caucus results on his Twitter feed and so far finds Romney leading Gingrich by around 60 to 20. In some caucus sites, Romney controlled as much as 80 percent of the votes cast. While none of this will be particularly shocking, the Romney camp's got to be pretty pleased that they can now reclaim the "momentum" card, which we think should require at least two wins in a row.
As for Gingrich, his expected thrashing in Nevada — Ron Paul is now believed to have a decent chance of beating him — is coming right on the heels of a serious drubbing by Romney in Florida. This could prove fatal for a campaign that has heavily relied on free media from strong debate performances and a surprising South Carolina win. As Intel Dan noted last week, there won't be another televised debate for at least two weeks, in which time several states deemed friendly Romney territory (e.g., Minnesota, Missouri, Maine) will have their say. Which is why some Gingrich supporters and many political hacks are asking, "Where was Sheldon Adelson?," the Vegas casino billionaire whose money largely swung the Palmetto State Gingrich's way? This is his own backyard, and his candidate sure could've used a hand … or at least several million dollars.
Update: At a 22-person caucus get-together at Palo Verde High School, Romney got 19 of the votes, the Times reports. That's 86 percent. Ron Paul had just two supporters in the crowd and Newt Gingrich one. No love for Rick Santorum, it seems.