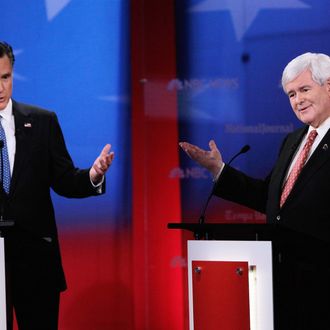 Romney, Gingrich in Tampa.
Photo: Joe Raedle/Getty Images
One of the biggest turnarounds in the GOP race so far was Mitt Romney's commanding performance in the two Florida debates (after he'd flubbed his way through the previous South Carolina ones) and Newt Gingrich's stumbling defensiveness in Florida (after he commanded the stage in both South Carolina debates). It was quickly found out that Romney's team had contracted debate coach extraordinaire Brett O'Donnell, which sort of explained everything. Except it seems several top Romney staffers were rather unhappy at just how little credit their candidate was getting for the debates compared to his new coach. Now Politico is reporting that O'Donnell was paid for his services but "not retained in any formal capacity." Let's see whether Romney learned his debate lessons well enough when he and the other GOP candidates return to the stage February 22, or if O'Donnell's dismissal was just a tad premature.