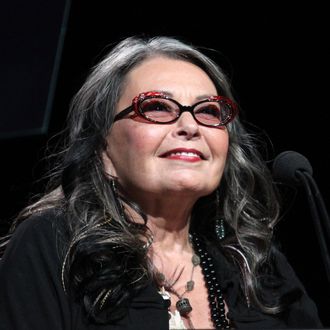 Roseanne.
Photo: Frederick M. Brown/2011 Getty Images
Roseanne Barr announced Thursday that she's seeking the Green Party's presidential nomination. The actress-comedienne claims to be a longtime supporter of the party and has filed the requisite paperwork. Barr's candidacy appears at least more serious than the other celebrity politician, Donald Trump.
"The Democrats and Republicans have proven that they are servants — bought and paid for by the 1 percent — who are not doing what's in the best interest of the American people," Barr said.
Roseanne knows a bit about the 1 percent: She's probably best known for her namesake and very funny sitcom that ran from 1988 to 1997, in which she and John Goodman raised a working class family in Illinois. And she's probably least known for her role in a travesty of a film She Devil that somehow attracted Meryl Streep* as the lead.
"I will barnstorm American living rooms," Barr said in a candidate questionnaire. "Mainstream media will be unable to ignore me, but more importantly they will be unable to overlook the needs of average Americans in the run-up to the 2012 election."
Here's a jump-start on the opposition research if she does get the Green Party's nod in July:
*An earlier version of this post confused Glenn Close with Meryl Streep. It's equally surprising that such a fine actress took the role.