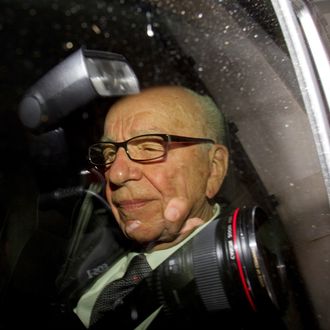 Murdoch arriving to face an earlier scandal.
Photo: Bloomberg/2011 Bloomberg
News Corp. boss Rupert Murdoch has not been the most popular man at his own tabloid The Sun, where nine journalists were arrested recently based on information provided to police by an internal, Murdoch-sanctioned probe. Today, he showed up at the News International offices in Wapping to address the staff of his biggest British paper in order to assure them that he's not closing the paper and he has not "launched a witch-hunt" in hopes "that a few scalps will salvage his corporate reputation," as some employees feared. In fact, he's launching the Sun on Sunday.
"We will turn over every piece of evidence we find — not just because we are obligated to but because it is the right thing to do," Murdoch writes. It's one stern moment in a mostly gushing memo to the staff, in which he also lifts the suspensions of the arrested journalists and promises, "News Corporation will cover their legal expenses. Everyone is innocent unless proven otherwise." But of the police bribery investigation, he adds, "we cannot protect people who have paid public officials."
Murdoch assures his people that he plans to expand the paper, not ruin it, with the Sun on Sunday coming "very soon." No other details are provided. "Having a winning paper is the best answer to our critics," he adds. Not breaking the law works too.