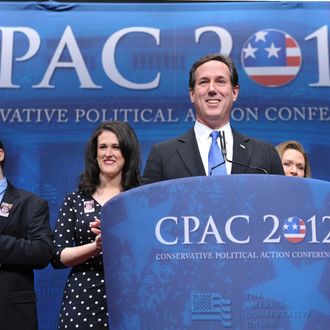 Presidential candidate and former Pennsylvania senator Rick Santorum arrives on stage to speak during an address to the 39th Conservative Political Action Committee February 10, 2012 in Washington, DC.
Photo: MAndel Nagn/AFP/Getty Images
When CNN's Candy Crowley asked Rick Santorum this morning about his seven-point loss to Mitt Romney in yesterday's CPAC straw poll, the candidate's inner sass came streaming out:
>
Well, you know, those straw polls at

CPAC

… for years Ron Paul has won those because he trucks in a lot of people, pays for their tickets, and they come in and vote and they leave. We didn't do that, we don't do that. I don't try to rig straw

polls.
You have to talk to the Romney campaign and how many tickets they bought, we've heard all sorts of things.