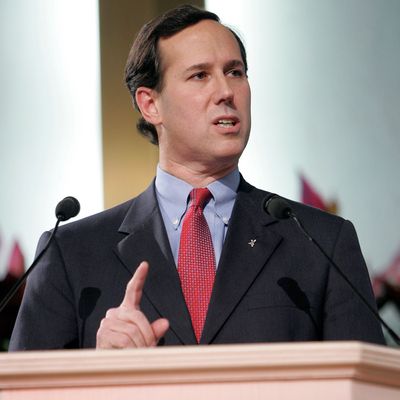 Rick Santorum, pulpit president. (Jeff Fusco/Getty Images)
Photo: Jeff Fusco/Getty Images
Now that Rick Santorum has all the free media coverage that comes with being the newest and most exciting (although that may be a stretch) frontrunner, he's also facing all the scathing scrutiny that comes with it, including criticism last week over his top supporter Foster Friess' real unfortunate aspirin-between-the-knees joke and now over comments he made at an Ohio Tea Party rally yesterday. He told the crowd that Obama espouses "some phony theology. Oh, not a theology based on the Bible. A different theology." He didn't come right out and call the president a Kenyan Muslim, as some more fringe (or not so fringe) conservative groups have called him, but it's hard to see where else Santorum was headed with that statement.
Later that same day Santorum did ever-so-gingerly backtrack: "In the Christian church there are a lot of different stripes of Christianity. If the president says he's a Christian, he's a Christian." This morning on Face the Nation, a blustery Bob Schieffer pressed him on the issue again and Santorum responded, "I've repeatedly said I don't question the president's faith." (He then proceeded to accuse the president of indirectly supporting the abortion of "children who are disabled in the womb" by supporting prenatal testing.)

Except this is not the first time Santorum's cast doubt on Obama's Christian bona fides. Buzzfeed's Andrew Kaczynski unearthed an August 2008 video where Santorum assesses then-Senator and presidential candidate Barack Obama's faith and choice of church. (Emphasis added.)

He joined the most popular church in an area of the city where he was going to make his political stand. It gave him a platform to be able to go out and use their reach and their power to build a base of support in that community so he could run for office. […] Could he through that time have become a person of faith and take that faith seriously? I never judge someone's faith personally. I have no idea whether he has a personal faith or a faith in God. What I can tell you is objectively that faith was an avenue for power.
Santorum was, in effect, calling President Obama a politically convenient Christian. The resurrection of similar lines of attack point to a broader strategy by Santorum to thrust the race more squarely into the social issues arena, where he can more persuasively claim to be the true conservative and perhaps even the only true Christian in the race. He's already on the record regarding the Mormonism-as-a-cult question, writing in a 2007 op-ed that he disagrees with Romney's assertions that "the specific theological tenets of Mormonism are not in any important respect different from those of traditional Christianity" and describing the Mormon church as one "that some Christians believe misleadingly calls itself Christian, is an active missionary church, and a dangerous cult." While Santorum was careful to attribute such feelings to others, we may see a resurgence of such characterizations if he decides to double down on a theocratically-tinged campaign.