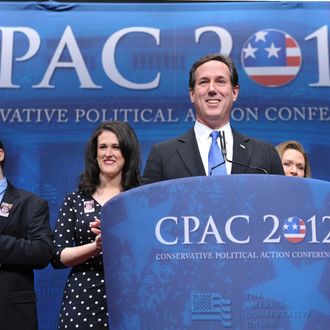 This is how Santorum polls.
Photo: MAndel Nagn/AFP/Getty Images
No longer a mere nuisance or the contender-of-the-week, Rick Santorum has made serious gains on Mitt Romney, actually pulling even with the presumptive GOP nominee according to two new national polls.
A Pew Research Center poll released today, in which Romney and Santorum are statistically tied nationally, shows that Santorum owes the surge to the support of tea partiers, conservatives, and white evangelical Republicans, all of whom favor the former Pennsylvania senator, some heavily.

From Pew's researchers:
In polling conducted Feb. 8-12, 30% of Republican and Republican-leaning registered voters favor Santorum while 28% favor Romney. As recently as a month ago, Romney held a 31% to 14% advantage over Santorum among all GOP voters.

Santorum is now the clear favorite of Republican and GOP-leaning voters who agree with the Tea Party, as well as white evangelical Republicans. Currently, 42% of Tea Party Republican voters favor Santorum, compared with just 23% who back Romney. Santorum holds an almost identical advantage among white evangelical Republican voters (41% to 23%).
Despite Mitt Romney's assurance at CPAC this weekend that he's a severe conservative (which sounds more like a disease than an ideology), Republican and Republican-leaning voters aren't buying it, the poll suggests.
In the Gallup poll where Romney (32 percent) is statistically tied with Santorum (30 percent), researchers sound positively stymied with Santorum's bounce, which coincides with his February sweep of Colorado, Minnesota, and Missouri that, yes, did not result in the immediate award of convention delegates. "The magnitude of his 14-point gain over the five-day periods bracketing the Feb. 7 contests is the largest post-primary/caucus bounce Gallup has recorded since the primary season began," they wrote.