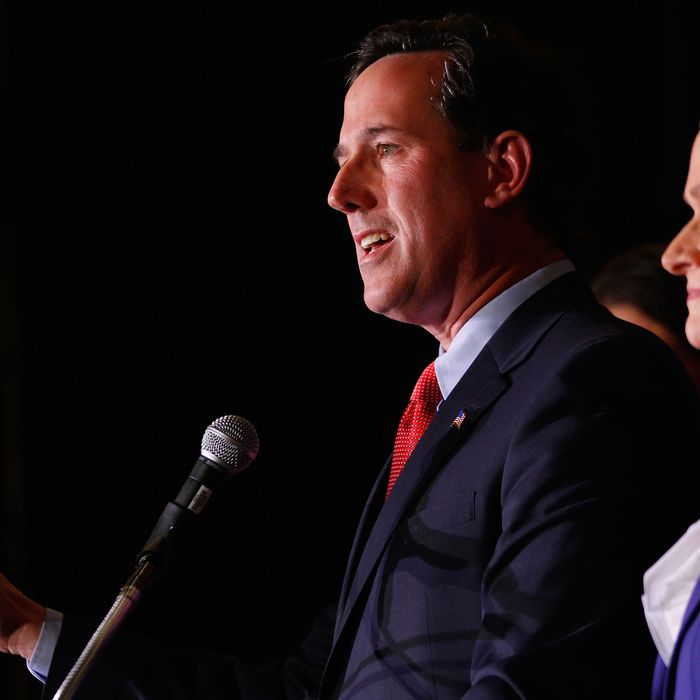 Santorum!
Photo: Whitney Curtis/2012 Getty Images
Holy Santorum! Although only momentum and symbolism, not actual, binding delegates were at stake in Tuesday's caucuses and primaries in Minnesota, Missouri, and Colorado, Rick Santorum still thrashed Mitt Romney and the rest of the field in the first two states, and edged Romney in Colorado with 40 percent of the vote to the front-runner's 35 percent.
Again, zero delegates will be awarded for Santorum's victory in Minnesota's caucus, in which he captured 45 percent of the vote; and Santorum will net exactly zero delegates for his commanding win in Missouri's nonbinding "beauty contest" primary. Santorum will run away with zero more delegates for winning the Colorado caucus.
But the symbolic nature of the wins hasn't tempered Santorum's enthusiasm for that sweet, sweet momentum.
"Ladies and gentlemen, I don't stand here to be the conservative alternative to Mitt Romney," Santorum told supporters at his rally in St. Charles, Missouri. "I stand here to be the conservative alternative to Barack Obama."
Romney's campaign attempted to lower expectations in Minnesota and Colorado earlier in the day, pointing to the big picture and mathematics of the race in a memo titled "The Road Ahead — A Reality Check." "Even 'success' in a few states will not mean collecting enough delegates to win the nomination," Romney political director Rich Beeson wrote. "This is exactly the sort of methodical, long-haul campaign we planned for, and we are well on the way to victory."

Although Romney's campaign did view Santorum as a threat in Colorado, the former Massachusetts governor won the state by over 40 points in 2008, and was expected to notch Colorado again, so Santorum's win qualifies as a major upset. For those keeping track in a way that doesn't actually decide the nominee, Santorum has now won four states compared to Romney's three and Newt Gingrich's one.