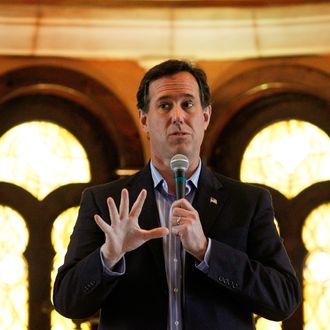 Santorum.
Photo: Tom Pennington/2012 Getty Images
On the eve of a critical Republican debate in Mesa, Arizona, Rick Santorum is being called on to explain charged remarks he made in a 2008 speech about Satan, a spiritual war, and the devil's potential attacks on America. "Satan has his sights on the United States of America!" the former Pennsylvania senator declared in the address to students at Ave Maria University in Florida.
But Santorum has made it clear: He's not apologizing for the statements. But doesn't want to talk about the speech anymore, either.
The old speech was unearthed last week by watchdog website Right Wing Watch and caught fire on Tuesday when Drudge Report picked it up.
Santorum delivered the address when Obama and McCain were campaigning for the presidency. The Satan comments came when Santorum was discussing Obama's position on abortion. Before launching into the colorful remarks about Satan, Santorum quoted Bishop Samuel Aquila of Fargo, North Dakota,  who had said, "Catholics who support so-called 'abortion rights' support a false right, promote a culture of death and are guarded by the Father of Lies."
A sampling of Santorum's remarks:
"While we all see all this as a great political conflict in warfare between the Obama camp and the McCain camp and culture wars, what Bishop Aquila put his finger on and what I think, I suspect those of you who are here understand, this is not a political war at all. This is not a cultural war. This is a spiritual war."

"And the Father of Lies has his sights on what you would think the Father of Lies would have his sights on: a good, decent, powerful, influential country, the United States of America. If you were Satan, who would you attack in this day and age? There is no one else to go after other than the United States and that has been the case now for almost 200 years, once America's preeminence was sown by our great Founding Fathers."
When asked on Tuesday whether he believes Satan is attacking the nation, Santorum said:
"Its a joke, its absurd. You know, if a person I'm a person of faith. I believe in good and evil. I think if somehow or another because you're a person of faith you believe in good and evil is a disqualifier for president we're going to have a very small pool of candidates who can run for president."
Speaking before a small crowd in Phoenix, Arizona, he added that he would defend everything he's said previously.
Mitt Romney is now riding the reactionary wave and without saying it directly, is attempting to paint Santorum as a religious nut, the flavor-of-the-week like Herman Cain once was, who's just now getting thoroughly vetted. Romney said on Tuesday: