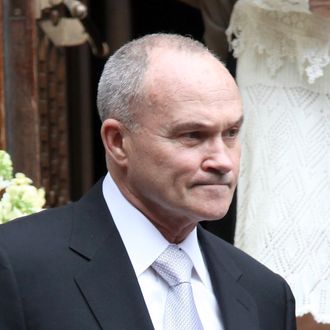 Ray Kelly.
Photo: Paul Zimmerman/2011 Getty Images
Details of the NYPD's widespread surveillance of local Muslim communities after 9/11 are now widely known thanks to an ongoing Associated Press investigation of the secretive programs, and the material just keeps mounting. The latest info comes from a confidential NYPD intelligence report, which can be viewed here, entitled, "US-Iran Conflict: The Threat to New York City." Recommendations include, "Expand and focus intelligence collections at Shi'a mosques," but as noted by NBC New York, none of the dozen mosques listed in New York and nearby states "has been linked to terrorism, either in the document or publicly by federal agencies."
The NYPD is prohibited under its own guidelines and city law from basing its investigations on religion. Under FBI guidelines, which the NYPD says it follows, many of the recommendations in the police document would be prohibited.

The report, drawn largely from information available in newspapers or sites like Wikipedia, was prepared for Police Commissioner Ray Kelly. It was written at a time of great tension between the U.S. and Iran. That tension over Iran's nuclear ambition has increased again recently.
The document's release comes at a time when the NYPD's view of Muslims is already under a microscope, fueled by both the AP's journalism and the reports about a film shown during department training built around the idea that Muslims hope to "infiltrate and dominate" the U.S.
The department did not comment this time around, but Kelly has previously defended the tactics. "We don't racially profile," he said. "We follow leads wherever those leads take us." He also claimed they "don't [decide which citizens to spy on] ethnically, we do it geographically," but this particular report doesn't really appear to back that up.