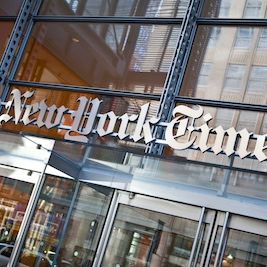 Cataloging the written tics of journalists is a favorite fishbowl pastime of other journalists, but the practice might be constructive and even beneficial to readers when it comes to avoiding clichés or words that people never say. Nowhere are habits more often noticed than at the New York Times, where the Paper of Record's writers have had their preferences pointed out to them for words like "limn," the description of faces as potatoes, and the vague but florid phrase, "a portrait emerges." Thanks to a front-page story today, another reoccurring figure of speech is thrown into sharp relief.
In an article about the double life of an alleged British bank robber arrested in Missouri, "The distance between [the suspect's] worlds was brought into sharp relief when the Ozark police tried to notify their British counterparts, only to discover that their phone plan did not allow overseas dialing."
So far in 2012, the things brought or thrown into sharp relief vary greatly, but almost always occur at the beginning of a story, as if justifying its existence by saying, "Something has changed and damn is it interesting!"
At Carnegie Hall, where Mr. Jarrett appeared on Wednesday night, these issues tend to come into sharp relief.
We hear again and again how New York City Ballet isn't a company of stars but of choreography. This is true on many levels, certainly, and thrown into sharp relief when you compare the current season to, say, American Ballet Theater's coming stint across the plaza at the Metropolitan Opera House, where many a fan will plot out the spring by deciding which international luminaries to see (or skip) in the predictable lineup of story ballets.
The security devices would summon help if hotel staff encounter danger in a guest's room — a possibility that was brought into sharp relief when a hotel housekeeper accused the French politician Dominique Strauss-Kahn of sexually assaulting her in his suite at the Sofitel New York last year.
And so on and so on and so on, always in the first few paragraphs. In the last year, the phrase has turned up nearly 100 times, and more than double that in the last five. The institutional pattern for setting up a story, one might say, has become very clear.