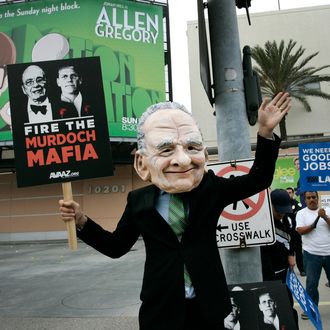 Photo: Bloomberg/2011 Bloomberg
News Corporation boss Rupert Murdoch is expected in London this week to assure the employees of his tabloid The Sun, where nine current and former editors have been arrested in an ongoing investigation, that he's not scrapping the paper entirely, as he did last summer at the News of the World. Murdoch's minions, though, are not very excited about the visit, with the "internal acrimony" reported over the weekend only growing.
Employees of the popular publication are reportedly skeptical of Murdoch's intentions because the information that led to the arrests by British police was provided to authorities by News Corp.'s own internal investigation into phone hacking and police bribery. Reuters quotes a former Murdoch employee about the anger from inside:
Speaking from his experience as the editor of the Sunday Times for 11 years, Andrew Neil told Reuters: "The Sun has turned against Rupert Murdoch."

"He has put in place things he cannot stop. The Sun was the (UK paper) most loyal to Murdoch. It was closest to his heart. Now Sun journalists believe he has launched a witch-hunt to protect himself.

"He won't be welcomed. They won't believe his promises. They're sullen. They're resentful. They feel betrayed."
The staff feels "let down and as if they had been thrown off a cliff by a man who used to champion their work," Reuters continues. "This is not just rank and file staff but people in the editorial chain of command of the Sun who are livid at the way their colleagues have been treated," said an anonymous insider.
Yesterday, the general secretary of the National Union of Journalists told the Independent that Murdoch's actions are "a monumental betrayal on the part of News International," and also compared the investigation to a "witch hunt." She continued, "Once again Rupert Murdoch is trying to pin the blame on individual journalists, hoping that a few scalps will salvage his corporate reputation."
New York Times reporter Ravi Somaiya, who is based in London, tweeted today, "Conspiracy theory among current/former NewsInt staff: company plan is to cynically turn over high-salaried/older employees to police." It's the sort of paranoia that might grow at a company that, say, accessed dead people's voice mails and routinely paid off police for scoops.