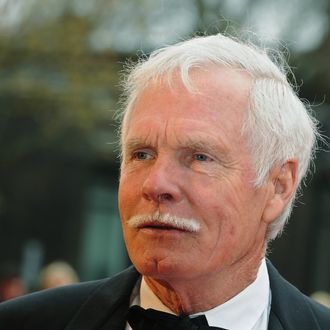 Ted Turner wearing a tuxedo.
Photo: Ian Gavan/Getty Images
Much of  Hollywood Reporter's profile of 73-year-old Ted Turner, the formerly "frenetic, hyper-kinetic" cable TV mogul, is fairly depressing. Turner, Stephen Galloway writes, now "goes to bed right after dinner most nights, switching 
off the light around 9, following an hour of reading." He's going deaf in both ears ("I miss a lot. It's really tough"), his "depleted energy troubles" his former staffers, and he "speaks frequently of his funeral." Then again, he's still worth $2 billion, remains the country's second-largest private land-holder, and dates four women at the same time. Well, not at the exact same time. 
He has replaced [ex-wife Jane] Fonda with a new arrangement, alternating among four girlfriends, each of whom gets approximately a week per month of his time. "Pretty much, that's the general rule," he says.
So, really, how bad can you feel about a guy with a life like that?
Is he lonely? He pauses. "Maybe a little."
Okay fine, kind of sorry, actually.