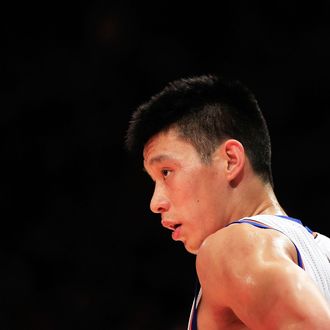 Jeremy Lin #17 of the New York Knicks looks on against the Sacramento Kings at Madison Square Garden on February 15, 2012 in New York City.
Photo: Chris Trotman/Getty Images
Good news for Knicks fans, both newly minted and long-suffering: The  standoff between Time Warner Cable and Madison Square Garden Network is over. After seven weeks off the air, thanks to a royalties dispute, Time Warner will once again carry MSG, per the Times.  The negotiations were always going to be tricky with Knicks owner James Dolan, since he also owns rival Cablevision, but apparently it was Very Serious Stuff indeed.  New York State Attorney General Eric Schneiderman pressed hard for the deal,  and Governor Andrew Cuomo got involved "in the past 24 hours" to ensure a speedy resolution. Maybe Barack Obama isn't the only politician with a case of Linsanity.