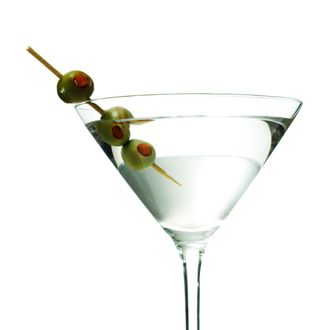 The New York Times has a history of elitist reportage that seeks out the spoils of the Manhattan kingdom among the simple people across the rest of the country, where they might not understand the finer points of something like vegetarianism or cocktails. Today's dispatch is from reporter Jeremy W. Peters, who has been following the GOP campaign, and admits up front, "I wasn't prepared to find martini perfection in a Cedar Rapids, Iowa, strip mall." And the rest of the unsettled wilderness?
"As a political correspondent for this newspaper, I decided as part of my campaign-trail duty to sample as many martinis across the country as I could, mostly after working hours," Peters writes. He couldn't believe he found Boodles gin, "an airy 90.4-proof British spirit with a hint of coriander," next to a Play It Again Sports and Godfather's Pizza, but elsewhere in Iowa, a new bartender was "utterly stumped" by a martini order.
In New Hampshire, the drink was served in a wineglass, and in Omaha, out of "a nine-ounce plastic cup." He sought out varied establishments "for the ideal mix of high and low," and concludes with some wisdom from — who else? — a  bartender in Florida. For whatever reason, she didn't tell him to shut up and order a beer.