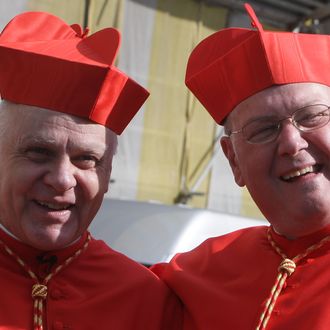 Dolan and pal.
Photo: Franco Origlia/2012 Getty Images
Now-cardinal (and longtime yukster) Timothy Dolan is having what sounds like a nice trip to Rome. Not only did he get to hang out with the pope and become a cardinal, but he partook in the more traditional Roman holiday tradition of stuffing his face. At least that's what he told the New York Post, by way of explanation for why he hasn't taken off his brand-new cardinal's ring — he can't. It's all very Eat, Pray, God's Love.
Dolan admitted he hadn't seen the inside design yet — saying the mystery behind why the ring may be a tad tight is that he's plumped up during his stay in Rome.

"I'll let Lent take care of that," he quipped, vowing to give up large portions of pasta for the 40 days that precede Easter beginning Wednesday.

During his Italian sojourn, Dolan has broken his diet on several occasions. Although the cardinal had shed 25 pounds over the last year, he indulged in some of his favorite pasta dishes in the days leading up to the consistory ceremony.
Also, upon getting his cardinal's hat and robe, Dolan enjoyed a celebratory Budweiser, reports the paper. The College of Cardinals is basically the world's fanciest fraternity, after all.