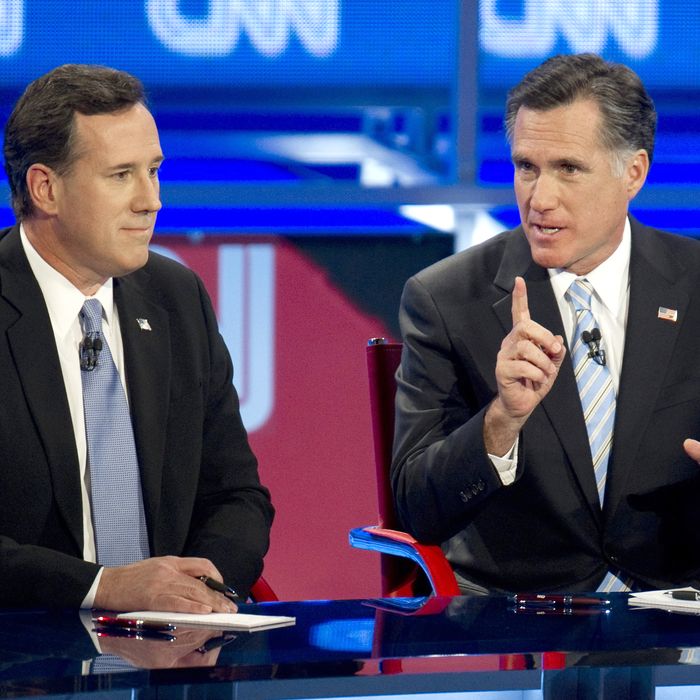 Photo: DON EMMERT/2012 AFP
You can see why Mitt Romney wants to stop having these debates. He's better at them than Rick Santorum, which means that he can more effectively portray himself as a knee-jerk reactionary consumed with hatred of liberals, unions, and President Obama. (Santorum is much more authentically reactionary, but that doesn't matter — after all, Sylvester Stallone is better onscreen than Mike Tyson at portraying an intimidating boxer.) And Romney understands that he needs to stop broadcasting this image of himself into America's living rooms.
Just tonight, he more fully embraced his off-the-cuff description of himself as a "severe conservative." (A dozen years ago, a Republican ran for office by modifying conservative with "compassionate," essentially just the opposite term.) He implied George Stephanopoulos was secretly in cahoots with the Obama administration's plan to gin up a debate over contraception. He cited Arizona as the model for the immigration policies he'd like to pursue.
Santorum was rattled by the pro-Romney crowd's constant jeering, and found himself stammering and repeating words. Most of all, he found himself defending a record that had been considered unquestionably right-wing until the party's rightward Obama-era lurch.
The moment that best encapsulated the Party's insanity was Romney's attack on Santorum for having supported Arlen Specter in 2004. Specter was the Romney of his day, a moderate at heart who had surrendered his moderation to stay in the good graces of the base against a more conservative primary challenger. He was a winning candidate in a blue state, he promised to unquestionably support all of Bush's judicial nominees from his perch in charge of the Senate Judiciary Committee, and the Bush administration fervently supported him. He followed through on his promises.
Leading up to his next election, in 2010, conservatives again mounted a challenge against Specter. This time the base was so riled up — and there was no Republican president to talk them out of it — that Specter knew he was doomed. So instead he bolted from the Party, joined the Democrats, and cast the deciding vote for health-care reform, which he otherwise would never have voted for.
Now here is the truly crazy thing. Conservatives have decided that the lesson here is not that they erred in driving Specter from the Party and allowing health care to pass, but that they ever supported Specter in the first place, something Bush, Karl Rove, and countless other conservatives did in a very sound effort to advance the conservative cause. And driving home this attack tonight was Mitt Romney.
Someone who understood politics, but lacked any familiarity with the issues, would watch the debate and come away thinking Santorum was the moderate and Romney the purist.
A few years from now, the Republicans who supported Romney in the 2012 primary will be bitterly attacked by their intraparty rivals for having sold out the cause.