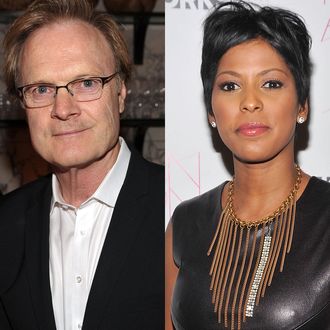 The co-stars.
Photo: John Shearer/Getty Images, Gary Gershoff/Getty Images
Okay, so you say a man employed at a news network is dating a young, pretty co-worker?  Don't tell me, I'll guess it. Is it Network? Broadcast News? That Michelle Pfieffer–Robert Redford vehicle from the nineties that we would probably watch if it were streaming on Netflix? (Get on that, Netflix.) It's not Morning Glory, is it? That movie was such a disappointment — maybe Harrison Ford and Rachel McAdams having a thing would have improved it. Hmmm, Anchorman? Does TV count? Is it that upcoming Aaron Sorkin show?
Oh, you say this is real life? And that MSNBC anchors Lawrence O'Donnell and Tamron Hall have been "spotted canoodling at downtown haunts," according to "Page Six"?
Larry, Tamron: If you need help with either writing or selling the screenplay version of your relationship, I'm available. Thinking crackling screwball dialogue and perhaps moving the setting to London so we can get lots of fun accents in and maybe a subplot involving Pippa Middleton's derriere, but just spit-balling here.  Although, since O'Donnell worked on the West Wing, Sorkin might have the inside track. This kind of workplace romance is his whole thing. Are you sure he didn't put you up to it?