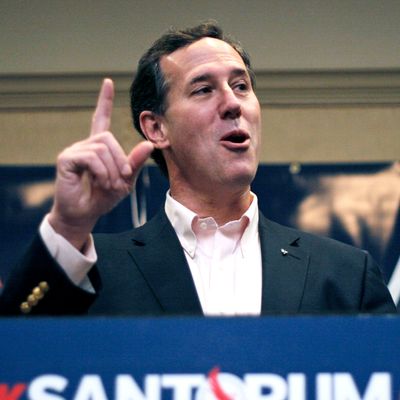 Saboteurs welcome!
Photo: Bill Pugliano/2012 Getty Images
Could Rick Santorum pull out yet another come-from-behind victory in Michigan? The polls are tightening again, and Santorum has a history (okay, several states worth, spanning a couple months) of overperforming his polling. If that happens, the next stage will be a vicious spin war between the Romney and Santorum camps over what the Michigan results mean. The key point of contention will be crossover voting.
Michigan voters, being clever and sophisticated, have a long tradition of strategically infiltrating the opposing party's primary to bolster the candidate opposed by the establishment. Republicans helped throw the 1972 Democratic primary and 1988 caucus to George Wallace and Jesse Jackson, to the mortal embarrassment of Democratic leaders. Democratic voters pulled the same trick in 2000, supporting John McCain over George W. Bush, to the high-profile embarrassment of Republican governor John Engler who backed Bush. There are many rumblings afoot of a similar effort this year on behalf of Santorum. PPP finds Santorum regaining a tiny one percent lead, a margin entirely attributable to crossover voting.
If something like this comes to pass, the spin war will follow.
Romney will maintain that Democrats intentionally hijacked the party's primary in order to saddle them with a loser for a nominee. He'll have plenty of evidence on his side – liberal blog Daily Kos dubbed its effort to gin up Democrats for Santorum "Operation Hilarity."
On the other hand, Santorum will argue that his crossover voting represents genuine cross-partisan support, in turn indicating his superior ability to win a general election. And he will be … not entirely wrong, either. PPP intriguingly finds that 55 percent of the Santorum Democrats actually like him, against 40 percent who are just messing with Romney.
Now, why would they like him? Santorum has hit some populist notes, like bashing Romney for opposing the auto bailout while favoring the financial bailout. (Santorum opposed both, but he has cast Romney's stance as indicating a tilt toward Wall Street.) He's also the underdog, the under-financed outsider in a sweater-vest taking on the machine. That can create an aura of sympathy among Democrats, albeit an aura that would surely dissipate if Santorum actually wins the nomination and faces Obama.